20 controls – 60 minutes …
Could anyone beat the clock? 20 controls in 60 minutes on Three Rock on St Stephen's Day?  Justin May showed his experience in score events (and maybe some local knowledge!) to fight off the opposition and win the annual Christmas Score event with a score of 440 and no penalty. Justin's functional fancy-dress allowed him to run and also netted him a 50 point bonus. Conor Short was second with 390 and his brother Ruairí joint 3rd with Shea O'Boyle on 380. Ruth Lynam was first lady in 9th place.
On the shorter (30 minute) score event, 3ROC juniors Caoimhe and Oisin May, Aidan McCullough and Clodagh Moran placed 1-2-3-4.
Cool and dry conditions greeted the earlier starters but the rains came midway through the event, reminding us that Three Rock is an exposed and physically challenging area even if you can see your house from it. Thankfully the rain passed and conditions were ideal for the control collectors!
This event is an opportunity for occasional, lapsed, active and beginner orienteers to meet up and swap news. We had returning visitors from England, Scotland,  Sweden,  Canada and doubtless other places too.
Hot juice and mulled wine in the tent were welcome at the finish line. Thanks to planner Gerry Cunningham (and family), organiser Brian  Lawless and all the helpers.
See the full results here.  By the way, if you're looking at the results, the fancy dress bonus of 50 points was included in the points calculation as an extra control 177.
Happy New Year! And remember we have a night event on Three Rock on Saturday January 12th.
Connoisseurs of Irish placenames and spelling might like this sign at the turn for Three Rock: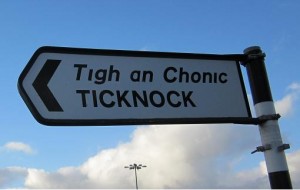 (for those who are not, it should be "Tigh an Chnoic").