3ROC News 10th November 2015
This weekend's Connacht Championships brings us to a new area, Oakport in Co. Roscommon, for Sligo Orienteers first big event. There's very little information yet about the competition so we don't know which 3Rockers are going, but good luck to you all.
Some good runs last Sunday at the steep, muddy and slippery Knocksink Wood (don't say you weren't warned!), with Cuan Riordan first on the short course and his brother Eoin 5th on the long.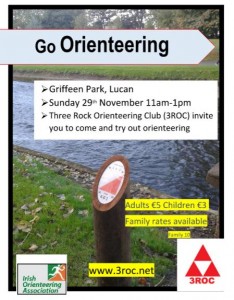 Organiser Nadya Dunne is looking for volunteers to help at our next event, Griffeen Park on 29th November and Eoin Dunne is looking for volunteers for the Christmas Score Event at Ticknock on December 26th. You can contact us easily using the contact panel on the right of this page.
Don't forget to enter the Munster Championships (Kilworth, Co. Cork on December 13th: details here). Entries close on November 30th.
Fitness training continues on Monday and Thursday evening at Belfield.