3ROC News 11 September 2017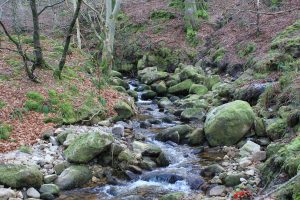 Well, it's been a busy orienteering summer, but we're back with our Leinster League event this Sunday, September 17th, at the Pine Forest, Rockbrook, Co. Dublin.
The plan had been to run the event at Ballyedmonduff, that's the southern part of the Three Rock Mountain map, but extensive felling and the development of a network of mountain-bike trails in the area by the forest's owners put paid to that idea.
The full range of seven League courses, from Yellow to Brown, will be on offer and start times are from 11 am to 1 pm. Remember that the All-Ireland football final between Dublin ind Mayo is on that day so you might like to run early if you want to watch the match.
Entry will be on the day only, so just turn up, register and run. Maps will be pre-marked and on waterproof paper, with SI electronic timing. Parking will be in the Cruagh car park and on the road outside the forest once this is full. It's a popular walking area so there will be lots of non-orienteers around too. The main officials are Planner – Ger Butler, Controller – John Riordan, Organisr – John McCullough.
See the location map here.
Public transport isn't great: the nearest bus is probably the 15B from Benson Street (near the Bord Gáis Theatre) to Stocking Avenue – see details here, or the 61 from Eden Quay to Ballyboden (see here). Either will involve a walk of several km, so it's not ideal.
Course details:
Yellow                   1.6km / 50m climb/ 7 controls (not suitable for buggies)
Orange                 2.5km / 75 m / 10 controls
Red                        4.0km / 135 m / 9 controls (largely on paths)
Light Green        3.6km / 85 m / 10 controls
Green                   4.5km / 185m / 12 controls
Blue                       6.5km / 280m / 17 controls
Brown                   8.0km /310m / 24 controls
Yellow, Orange suitable for children and beginners;
Red for fitter runners with easy navigation;
Light Green medium length and medium navigation;
Green, Blue technically more challenging navigation;
Brown longer but equally challenging navigation.
The start will be about 10 minutes' walk (uphill!) from parking.  Map scale 1:10,000, 5 m contours, A4, on waterproof paper.
The lower part of Cruagh Road, R116, up from Rockbrook (marked with X's on the map) is  out of bounds to orienteers for safety reasons as well as the forest area operated by "Zipit". Courses have been planned in such a way that foreseeable route choices will avoid this part of the road anyway. Competitors should still exercise caution, remaining alert to approaching cars and cyclists alike, when crossing the main road adjacent to Zipit.
Busy Summer
Apart from the Pine Forest event, 3ROC has had a busy summer, with our three evening events in the Phoenix Park in August (thanks to all the helpers!) and with club members running at events as diverse as the Belgian 3-Day in early June, the Jukola Relay in Finland in mid-June, the European Youth Championships in Slovakia in late June, the World Championships in Estonia in July, the 5-Day O-Ringen in Sweden in July, the Scottish 6-Day in August and the London City Race just this weekend past.
Beat the Street
… and by the way, if you'd like to try something a bit different between now and the end of October, 3ROC have entered a team in "Beat the Street" in Dublin. You get a card at a Dublin City library and visit as many control points (called "Beat Boxes") as you can during this period. You can get exercise by walking, cycling or running, win prizes and practice your street-orienteering.  Click the picture for details!
(If you're in Belfast, Waterford or Limerick you can Beat the Street too).