3ROC News 12th December 2018
Leinster League: Top ten positions for 3ROC at the final League event of 2018 last Sunday, with Clodagh Moran (8th on Blue) and Karen Convery (9th on Green), with longer courses than usual on the grassy slopes of the Curragh Plains.
Overall in the League Clodagh finished 2nd woman on the Blue course and Mary O'Connell 3rd Woman on the Green course. Well done!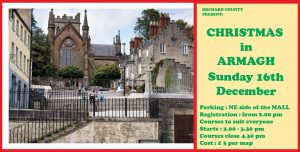 This weekend we have another break from orienteering unless you travel to Armagh on Sunday for an urban race, or Kilworth Camp, Mitchelstown, Co. Cork, for the final Munster League event. Kilworth details are here. Armagh details are here. Armagh start times are 2-3.30 pm so you might see the Christmas lights if you start late!
Back in Leinster the next event is the annual 3ROC Christmas Score event on December 26th at Three Rock. Please note that start times are 10.30 to 12.00 only: last start is 12.00 and courses close at 1.00 pm. More details here, on the IOA Forum and on the 3ROC Facebook page in the days before the event. In a score event you choose which controls to visit in whatever time is allowed (maybe 45 minutes). Each control has a points value and there's a points penalty if you're out too long, so bring a watch or a phone with a timer!
Happy Christmas to all our members and our friends in the other clubs.