3ROC News 13th December 2016
Our next event, in fact the next event in Leinster, is the Christmas Score event on Three Rock on St Stephen's Day, December 26th. Don't worry, we'll be using a map which is the right way around! In a score event you have a set time (in this case 50 or 30 minutes – you choose) to visit as many controls as you can, in any order. Each control point has a points value depending on how far away it is or how difficult it will be to find, and you lose points if you are over the time limit. Starts are from 10.30 to 12.00 and courses will close at 1 pm so we can get to the Lamb Doyles for some soup and sustenance. You'll get extra points for fancy dress, which will be judged by our special adjudicator and no, just wearing a Santa hat is unlikely to impress him!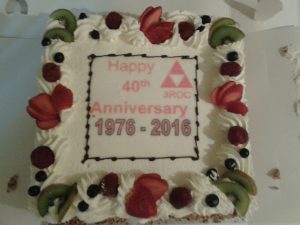 That was a great 40th Anniversary day out last Sunday – some old-style orienteering with a few extras on Three Rock in the morning, followed by a meal at the Dropping Well in the afternoon. We were joined by some very welcome guests in the morning, from CNOC and GEN, with even a stray Fingal orienteer. The exercise that got the most head-scratching and smiles per km was the mirror-image course where east and west were reversed on the map, to get both your left and right brain working!
It was great to have some of the founder members of the club, who transferred to 3ROC when the original Irish Orienteers club was dissolved in 1976: Pat and Brigid Flanagan, Máire Walsh and, of course, Seán Rothery, one of the founding fathers of Irish orienteering, still going strong. The rolling slide show of 40-years of orienteering and maps generated great interest, with everyone trying to "name the orienteer", while the 40th Birthday cake vanished without trace.
Do you remember master maps, chinagraph pencils, transpaseal, controls with coloured pens to record that you were there, black and white maps, pin punches, soggy control cards, metal control markers, hockey boots (because O-shoes hadn't been invented), Adidas "Cross" and Nokia "Sisu" shoes, the arrival of the Helly Hansen thermal after the 1978 World Championships in Norway …? We've come a long way but we've lost some of the spirit of adventure, where winning times could be several hours and last finishers could be several hours more, where the delight of finding a control was your reward for searching, where the map was so basic as to make even simple courses into a major challenge.
On Christmas Day we'll be doing the (we think) 40th annual Three Rock Christmas Run, an informal gathering of orienteers who are either here anyway or who are home for Christmas, who meet at Ticknock  on Christmas morning and try to work up a sweat and an appetite and get as wet and muddy as possible. In recent years some of the "runners" have opted for walking, jogging or even mountain biking, but the tradition has been kept alive since 1977.
Only a couple of weeks later we start the Dublin by Night series with our night event in the Phoenix Park on Saturday 14th January: more details soon. Note that for insurance reasons night orienteering events are only open to M/W 16's and older.
In the meantime, have a Happy Christmas from 3ROC, and thanks for your help and support throughout the year!
Don't forget you can also follow us on Facebook where you'll find lots of interesting stuff, which is sometimes more recent than the information here on www.3roc.net.