3ROC News 14th April
All ready for the Leinster Championships on Sunday at Lough Firrib? The forecast looks better than it was for the 2014 Irish Champs in the same area, where we couldn't find our way across the car park without getting lost.  Start times have been published and we have twenty runners taking part.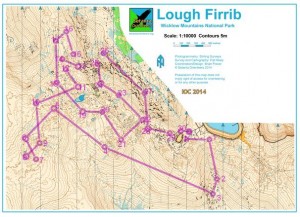 The evening before (April 18th), UCDO are running a sprint event at Belfield, starts from 4 to 6 pm. If you've never tried sprint-O, this is a great chance. Courses are short, with lots of controls, lots of quick decision-making: it's sprint for the mind for all, sprint for the legs for some.
Commiserations to GEN for the "Three Rock" type weather last Sunday at Trooperstown , which kept the numbers down at the final league event of the season. T-shirts are being organised by the Leinster clubs as prizes. it looks like 42 people completed 7 of the 12 events.
Well done again to the 3Rock runners at the JK at Easter: Cuan Riordan (winner M12B), Ronan Cleary (3rd M55S), Julie Cleary (4th W50S), and to the Relay team of Eoin and Clíona McCullough and Ger Butler who finished a great 4th in the Men's Short race. The Lake District terrain and forests were fantastic: runnable, detailed, contoured and challenging.
The weekday evening events are starting soon after the Irish Champs, so watch out for them. Evening hill races are also starting – see the link to IMRA on the next page of this site (over on the bottom right where it says "View more links here"…). The CNOC summer O-series this year includes an urban race in Naas on 9th June – sounds interesting.
Irish Champs Relays:  If you are interested in running on a 3ROC team, please contact 3rockoc@gmail.com and let us know as soon as possible.
Training continues on Monday and Thursday evenings at Belfield.
Entries for the Shamrock O-Ringen in Glengarriff are now open. See details here.
The call is out for runners in the Wicklow Way Relay on May 23rd. We'll have a 3ROC team again and the selection process is under way. If you'd like to be considered, again it's an e-mail to 3rockoc@gmail.com.
Finally, a reminder to pay your club subscription: it's not much but it will allow you to take part in (and maybe win) major competitions like the Leinster and Irish Championships. It's a sign of your commitment to the sport.
See you in the forest!