3ROC News 20th September 2017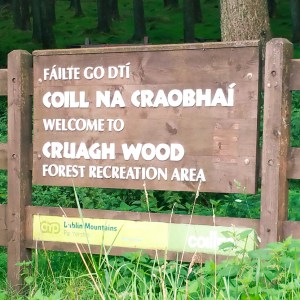 The Leinster League kicked off again after the summer last Sunday with our event at the Pine Forest: thanks to all the helpers on the day and to the competitors who supported the event. Visibility early in the morning was about 20 metres but it improved steadily through the day so that when the controls were being collected we could see as far as Carlingford and the Mourne Mountains, about 100 km away.
Ger Butler's courses covered the whole area, including Tibradden and the top of Cruagh, where he hoped the cloud would still be down to make it interesting! Ruairí Long, Hugh Cashell and Angus Tyner were the top three on the 8 km Brown course, with 3ROC's Eoin Riordan 4th; on the Blue course Róisín Long in second was only 11 seconds adrift of winner Paul Smyth, with Stephen Whittle third.
Good 3ROC runs also from Eoin Dunne (4th on Green) and his son, Scott (4th on Red) and Amalia Naughton (3rd on Light Green). The runners' routes on Routegadget are, as always, fascinating: quite different routes taken with little or no time difference, and seeing where runners go wrong is very instructive!
The results and Routegadget routes are here.
This weekend we are back to the "Scatter" format with Fingal's event on Sunday 24th at Newbridge House, Donabate, with a mass-start at 12.00. In a scatter event you visit a set number of controls in the order of your choice, and get back to the finish as quickly as you can.  See here.
If you want to head south instead of north, Waterford Orienteers are running a South-East League event at Rathwood, Tullow, Co. Carlow on Sunday. See here.
The Irish Veteran Team head to Scotland this weekend for the annual Veteran Home International near Aviemore. John McCullough seems to be the only 3ROC representative on the team, but good luck to everyone! The Senior Team managed to beat Wales at the SHI in Fermanagh at the start of the month (well done Clodagh and Colm Moran!) so let's see if the Vets will do equally well. It's unrealistic to expect us to be close to the English and Scots, but the Ireland v Wales competition is always intense.
Junior Team Announced: The team has just been announced for the Junior Home International in Wales in October and we have four runners going:  M14 Cuan Riordan; M16 Aidan McCullough; M18 Eoin Riordan and W18 Clodagh Moran. Well done on being selected and good luck at the event. The competition is near Dolgellau on 7th/8th October. (If you get there, you should know that it's pronounced something like "Dollgethlay"!). Remember to apply for your grants from the club – any member representing Ireland gets a support grant from 3ROC at the AGM in early 2018 – it's worth your while!
See the full team here.
Munster Championships announced. Also just announced are details of the 2017 Munster Championships in the Galtees on the Limerick/Tipperary border on Sunday 19th November, only two and a half hours from Dublin. Entries close on 5th November. See details here.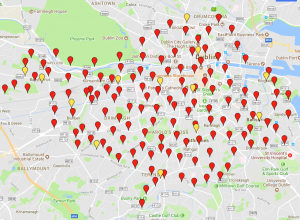 Beat the Street has come to Dublin (and the Belfast area, Limerick and three locations in Waterford including, rather surprisingly, Kilmacthomas). You can sign up at many Dublin City Libraries and visit the controls all over the city until 1st November, scoring points and maybe winning prizes (one of the prizes is expected to be free entry for a family to an orienteering event).  3ROC have entered a team so if you sign up you can join us and our points will be accumulated for a team score.
It's street orienteering on a grand scale, it's free, and there are  136 controls to be visited on foot or by bike.
Read all about it here and see the map of the "BeatBox" sites here.
New to orienteering? – A reminder for newcomers – if you'd like to join a club you'll make new friends, get cheaper entry to events and have training opportunities and easier transport to events if you don't have your own. Joining 3ROC is quick, easy and cheap: you can join online now and your subscription will run until the end of 2018! To sign up for 3ROC just click here and support the development of the sport (… and don't forget to get your free 3ROC pen!)
See you in the forest!