3ROC News 22nd February 2018
Just a couple of days to go to the Leinster Championships, all waiting for the start times to be published … Cronybyrne and Ballinastraw are challenging areas for orienteering and no doubt course planner Aonghus OCléirigh will make the best use of them. The Ballinastraw section has not been used for many years and recollections of it are somewhat hazy, but big crags, hills and felling spring to mind! The forest cover may have changed since its last use but the hills and crags remain. Cronyburne, on the other hand, has lovely sections of runnable forest, some with heather and fraughans underfoot, reminiscent of Scotland or Scandinavia. A tributary of the Avonmore River runs through the competition area, so be prepares to get your feet wet. The forecast for Sunday is cold and dry, with a severe frost, so running conditions should be good.
A pity the restriction of 200 runners was imposed by the National Park authorities, though: perhaps they don't understand that orienteering doesn't involve everyone running laps of the same circuit at the same time? Several well-known names are missing from the start list, caught out by the numbers limit being reached before the closing date. A result of this is that there will be no entry on the day. If you are entered but can't run for whatever reason, do let the organisers know as there is a waiting list of people who would like to run.
Best of luck to the 20 3ROC runners, particularly last year's M21 Champion Valdas Tilunas, who has been training hard and finished in second place to Conor Short in last Sunday's event at Djouce, despite a 90 second error on the first control. He will be joined by the very experienced Colm Moran, recovering from an ankle injury. Eoin Riordan and Aidan McCullough will be in the mix in M18E, with Clodagh Moran running up a class in W20E. In W21E our only representative is Clíona McCullough, taking a break from hockey this weekend and running under the DUO banner. In the veteran classes, Con Carroll must be in with a chance in M85 although, curiously, by running M80 he would be guaranteed a medal as there are no other runners!
The start list is here. Best of luck to everyone and enjoy the race!
Last weekend
Speaking of wet feet, last Sunday's Setanta event at Djouce involved 3 or 4 river crossings,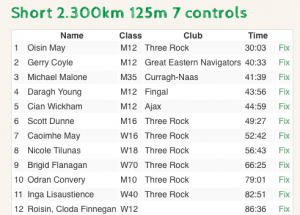 so wet feet were inevitable. Lots of climb on the courses but plenty of challenge and route choice and in before the rain – what more do you need? Good runs from Valdas, 2nd on the Long course, Eoin Riordan (4th), John McGrath (6th) and Aidan McCullough (9th); Ger McGrath (4th on the Medium course – getting the hang of orienteering again!, Karen Convery (9th) also returning after a long break, and M16 Ben McDowell (10th); while on the short course it was 3ROC 1st for M12 Oisín May and then an extraordinary 6-7-8-9-10-11!
On the social front we had a good turnout at the Dropping Well on Friday and lots of people took the chance to stock up on 3ROC orienteering gear – jackets, hats, sweat bands, O-tops and legs, gaiters. It was dark so nobody noticed the mysterious statue of the rhino (maybe an O-club in Germany?) in the River Dodder outside. The short General Meeting dealt with the issue of changing the date for the AGM, so the date for the 2018 meeting will be decided shortly.
No 3ROC takers for John McC's trip to the Welsh Championships in Anglesey next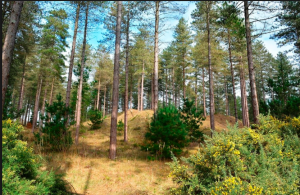 weekend (March 3/4) but a group from an assortment of clubs is travelling over (or do 3ROC members not look at the Forum on the IOA website?)
International Orienteering Federation
You can keep up to date with international orienteering developments at Orienteering.org here.
Reminders
In the meantime, don't forget to enter the Irish Championships and the Shamrock O-Ringen. IOC entry fees are at the low rate until February 28th. Details here.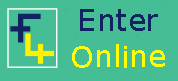 Annual subscriptions are coming in, but just a quick reminder that you can sign up easily with Fabian 4 on line here.
See you in the forest!