3ROC News 25th January 2017
Some good 3ROC runs last weekend, both in Ireland and abroad. At CNOC's Donadea event on Sunday, Mary O'Connell finished 2nd on the Medium course with her daughter Clodagh 3rd; Emma McAuley 3rd and Áine Uí Shúilleabháin 4th on the Adventure course and Eoin Riordan 5th on the Long course The previous evening at Massy's Estate, Mary O'Connell was the only 3ROC runner, finishing 4th on the Short course.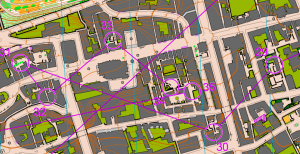 Meanwhile in Scotland, the Edinburgh University Big Weekend kicked off with a night sprint at the University, where Eoin McCullough finished 4th on the Long course and his brother Aidan was 3rd M16 on the same course. The start was run by Colm Moran so there was a 3ROC involvement on all sides. The following day, the Edinburgh City Race saw Eoin taking 2nd spot on the Men's Open course, 1 minute down on Peter Bray, with former 3ROC and DUO runner James Haynes 5th. On the M16 course, Aidan McCullough was 4th. This was followed on Sunday by a very varied event on Whinny Hill, Arthur's Seat and Holyrood Park, in the centre of Edinburgh. What an area to have in a city centre! We have seen some of it on TV in cross-country races, but orienteering gets you into the heart of it. We started on a 1:5000 scale map for the first part of the course, then turned it over to a second map of the same area at 1:7500 scale, which was then followed by a map exchange to a 1:1000 (yes, one to one thousand scale) micro-O map for a handful of controls before turning that map over to a 1:5000 scale map for the final section. Great fun!
Back to this weekend at home, we have Fingal's Dublin by Night event on Saturday at the Tolka Valley Park, and the option of travelling to Castlecomer, Co.Kilkenny for WatO's local event on Sunday. The DBN event has starts from 6 to 7 pm and two courses. Night-O is for M/W16 and older for insurance reasons. See details here.
A reminder that annual subscriptions are now due and you can now join up and pay online using the Fabian 4 service here.
A second reminder is that the 3ROC AGM is on Friday 10th February at Ballinteer St John's GAA Club.
See you in the forest!