3ROC Orienteering News 28th September 2017
Event postponed: This Sunday's Leinster League event at Glenreemore, west of the Wicklow Gap, has been postponed, probably until 15th October. The route to the start crosses a river which is currently in spate and may not be crossable at the weekend so Setanta Orienteers took the difficult decision to postpone in the interests of competitor safety. See the video here.
Vets finish 4th: The Irish Veterans team were unable to match the Seniors earlier in the month, finishing fourth at last weekend's Veteran Home International in Scotland. The final score was England 259, Scotland 240, Wales 128, Ireland 100. 3ROC's only representative on the team, John McCullough, had to cry off at the last minute due to illness.
See the courses and results for the individual event at Inshriach here.
Junior Team Announced: The team has recently been announced for the Junior Home International in Wales in October and we have four runners going:  M14 Cuan Riordan; M16 Aidan McCullough; M18 Eoin Riordan and W18 Clodagh Moran. Well done on being selected and good luck at the event. The competition is near Dolgellau on 7th/8th October. (If you get there, you should know that it's pronounced something like "Dollgethlay"!). Remember to apply for your grants from the club – any member representing Ireland gets a support grant from 3ROC at the AGM in early 2018 – it's worth your while!
See the full team here.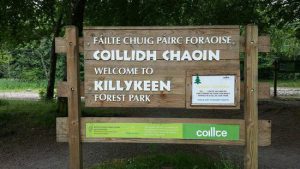 Connacht Championships: Sligo Orienteers are staging the 2017 Connacht Championships at Killykeen Forest, near Killeshandra, Co. Cavan, on Sunday 29th October. This is the same day as the Dublin Marathon, the Sunday of the October bank holiday weekend. Entries are via Fabian4 here. 
Early Fees: up to Fri 13th October 2017 Seniors €12, Juniors (M/W20-) & Students €6, Family €30
Late Fees: up to Mon 23rd October 2017 Seniors €15, Juniors (M/W20-) & Students €8, Family €38, SI Hire €3. Entrants aged M/W65+ are able to claim a €3 discount in the event options section of step 3 of the entry process
Munster Championships announced. Also recently announced are details of the 2017 Munster Championships in the Galtees on the Limerick/Tipperary border on Sunday 19th November, only two and a half hours from Dublin. Entries close on 5th November. See details here.
Junior European Championships: Good luck to the three Irish runners at the Junior European Championships in Austria this week: Dan McDonnell, Conall Whelan and Zac O'Sullivan-Hourihan are running in the Relay on Friday, Long on Saturday and Sprint on Sunday. The event centre is at Furstenfeld. See details here.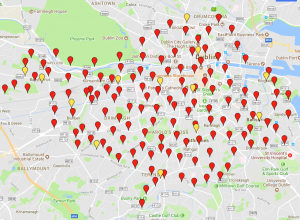 Beat the Street has come to Dublin (and the Belfast area, Limerick and three locations in Waterford including, rather surprisingly, Kilmacthomas). You can sign up at many Dublin City Libraries and visit the controls all over the city until 1st November, scoring points and maybe winning prizes (one of the prizes is expected to be free entry for a family to an orienteering event).  3ROC have entered a team so if you sign up you can join us and our points will be accumulated for a team score.
It's street orienteering on a grand scale, it's free, and there are  136 controls to be visited on foot or by bike. Remember that it's not SI – it takes a couple of seconds for your card to register when you "tap" it at a control and you get the confirmatory flashing light.
Read all about it here and see the map of the "BeatBox" sites here.
New to orienteering? – A reminder for newcomers – if you'd like to join a club you'll make new friends, get cheaper entry to events and have training opportunities and easier transport to events if you don't have your own. Joining 3ROC is quick, easy and cheap: you can join online now and your subscription will run until the end of 2018! To sign up for 3ROC just click here and support the development of the sport (… and don't forget to get your free 3ROC pen!)
See you in the forest!