3ROC News 29 November 2016
A misty, moisty, midgey, Monaghan morning last Sunday for Fingal's Leinster League No 9 at Rossmore Forest Park – beautiful runnable beech forest in parts, with some not so nice brambly bits, but a good area nonetheless. A small crowd of only about 60 made the journey, though, with only one from 3ROC – where was everyone? You can see courses and routes on Routegadget here.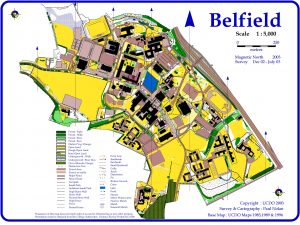 This weekend there's more action, though, starting with UCDO's sprint event at Belfield on Saturday (starts 12.30 to 2 pm). The Intervarsity Championships are on this weekend, combined with CNOC's Leinster League event at the Curragh on Sunday – see details here. This is the last League event of the year, a chance to pick up precious league points and run on the fast terrain of the Curragh, with excursions into the furze bushes and old trench systems.
Meanwhile there's a Junior Squad training weekend on, with training at Ballyedmonduff on Saturday morning, followed by the Belfield Sprint, then on to Glendalough for the night – with a meeting to plan next year's activities – and then the Curragh on Sunday. Some of the M/W16's will be missing as they have been invited to the annual Hawkshead training camp in the English Lake District.
The next event in Dublin will be our Christmas Score event at Three Rock Wood on St Stephen's Day, December 26th (start times 10.30 to 12.0 only). 3ROC club members have a 40th Anniversary celebration on December 11th.
If you're planning for next year, entries for the JK at Easter near Gatwick Airport in England are open (see here); entries for the Edinburgh Big Weekend in January (20-22) are open here. Closer to home, you'll enjoy the Dublin by Night series of night orienteering events, probably starting with the Phoenix Park on Saturday 14th January – more details later!