3ROC News 29th September 2016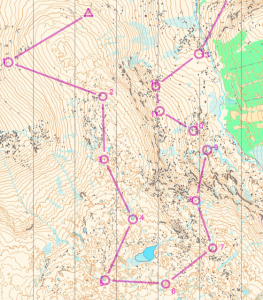 Back to Fair Mountain for this Sunday's Leinster League orienteering event: it's a mixture of detailed open mountain and forest about 5 km west of the Wicklow Gap. Setanta Orienteers are our hosts, with start times from 11 to 1.
It's a physically and technically demanding area, with rough ground underfoot, so may not be to everyone's taste, but it's typical of the terrain in this area. Last used for the Leinster 3-Day in June, the area on top of the hill near Lough Firrib is very tricky navigationally, with lots of turf cuttings and fine contour detail – at least back in June we could see where we were going, not like the Irish Championships there in 2014! There is a 4 km drive on forest roads once you leave the main road and there is no public transport in the area.
Course Summary
Course Controls Length Climb
Yellow 10 1.0 km 30 m Young Juniors
Orange 8 1.6 km 110 m Slightly harder than Yellow
Red 14 4.1 km 170 m Beginner Adults
Light Green 9 3.6 km 115 m Some experience needed
Green 11 4.3 km 180 m Shortest technical
Blue 12 6.2 km 260 m Medium length technical
Brown 16 8.3 km 360 m Longest Technical
Yellow, Orange and Red courses are suitable for beginners, the Red aimed at Adult novices as it provides a more physical challenge compared to Yellow & Orange. Orange & Yellow courses will be in the wood but not on tracks. All courses will cross marshy areas.  The Yellow course will have 2 short taped legs. Note the large climb on Orange course. This is so it stays with line features. The length of some of the courses may seem short, but they are taking account of slow terrain which they go through. Please ask at registration for advise on courses. Note: Yellow and Red course maps will be given out before the start and guidance available if needed. Blue and Brown courses cross a river twice, and 2 crossing points will be marked. Depending on weather conditions, these may be mandatory.
See the map from the June 3-Day event here.
The Junior Squad, including 3ROC's Clodagh Moran, Eoin Riordan and Aidan McCullough, were training last Sunday near Glenmacnass in Wicklow: good preparation for the Junior Home International in England in two weeks, and for the Fair Mountain event.
Our next 3ROC event is at St Catherine's Park, Lucan, on Monday October 31st. Can you help?
See you in the forest!
PS Good luck to the Irish team running in the Junior European Cup  in Scotland this weekend. Didn't know it was on? Neither did we! Sprint on Friday at Stirling University, Relay Saturday and Long race Sunday, all for the under 20's. Details here. Paul Pruzina, Peter Meehan, Conall Whelan, Caoimhe O'Boyle, Róisín Long, Aoife McCavana and Emer Perkins.