3ROC News November 24th
Come to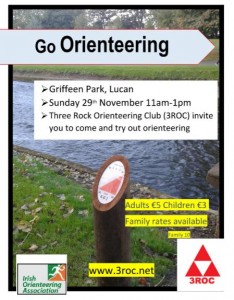 Griffeen Park, Lucan, on Sunday 29th November for the next 3ROC event, a come-and-try-it introductory event starting from 11 am to 1 pm. Thjere are two courses of 2.6km and 5.3 km and the courses are pre-marked on the maps. Did you know there's also a permanent orienteering course in the park, and that the map was produced in both Irish and English? Or that the 800-year-old King John's Bridge in the park is the oldest bridge in Ireland? Expect more details soon on the Forum of the IOA page here.
You can see the Griffeen POC here.
Here's a location map
Some more good 3ROC runs last Sunday at Carnawaddy, near Carlingford, where Fingal ran a Leinster League event. A small turnout on a cold and windy day, but Clodagh Moran and Brendan McGrath finished 4th and 5th on Green, while Aidan McCullough and Cuan Riordan were 1st and 2nd on Light Green. Results are here.
A date for your diary (not yet in the Fixtures List) is a middle-distance event at the Pine Forest on Saturday 5th December in aid of the Junior Team who are having a training weekend in the area. Start times 2 pm to 3.30, winning time about 30 minutes. The single course is planned by Swedish-based David Healy, using a new 1:7500 scale map of the most runnable part of the area, drawn by Ger Butler, and the Controller is John Riordan. The next day (Sunday 6th) sees us back at Trooperstown for GEN's Leinster League.
Looking further ahead, the 3ROC night event (Dublin by Night) in the Phoenix Park has been brought forward by one day to Friday 8th January so as not to clash with the IOA conference on promoting the sport.
See you in Griffeen!