3ROC Orienteering News 10th November 2017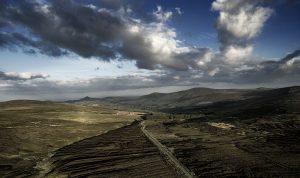 A bit late with the news this week due to the uncertainty about the Irish Sprint Championships we hope to run on 2nd December. But more of that later …
The Ajax weather-gods smiled on us again last Sunday on the Featherbeds where, despite a cold wind, the rain held off and we got a run on the intricate turf cuttings on the Dublin-Wicklow border. In fact the courses strayed from one county into the other and back again, much like the competitors. Notable 3ROC performances from Eoin Riordan (1st on the Green course) and Clodagh Moran (3rd on Blue). Only two more Leinster League events left in the year (December 3 and 10) so there's still a chance to pick up some extra league points. See the results and routes here.
This weekend there's a lot of choice but may involve some travel: On Saturday, LVO are staging an NIOA series event on the sand dunes of Tyrella near Dundrum in Co. Down, and on Sunday Setanta have a come-and-try-it local event at Massy's Estate/Hellfire Wood (see details here) while Waterford Orienteers have an urban event at Kilmacthomas, near Dungarvan, on a new map. The LVO event requires pre-registration as it's on military terrain and if you haven't told them already, you're too late! The WatO event will use SIAC contactless electronic punching so it should be fast and furious. There are also events at Cregg Castle, Co.Galway and on Spike Island in Cork Harbour – details on the IOA website here.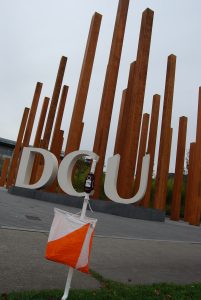 Irish Sprint Championships update
Thanks to the club members who volunteered to help at the Irish Sprint Championships in three weeks time. IOA asked all the Leinster clubs to run the event before the end of 2017 and we took it on. The current position is that we are ready to go with the event on Saturday 2nd December but we're still waiting for final clearance from Dublin City University. The area we intend using is DCU on Collins Avenue and Albert College Park next door. Don't worry if you're coming from the southside – the 44 bus will bring you to the door! The 4, 9, 11, 13,  16 and several others will also drop you a couple of minutes away. Both areas are now out of bounds to orienteers.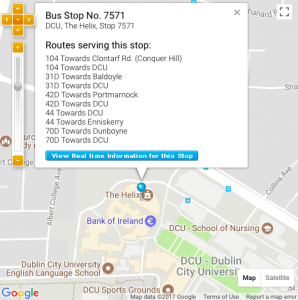 Until we get the all-clear from DCU we can't publicise the event in a big way, or start taking entries, so watch the 3ROC Facebook page here and this website for updates. Assuming that the event is going ahead, everything will be happening very quickly, as befits a Sprint orienteering competition. We'll be asking you to enter and also to spread the word as entries will be open for less than two weeks, closing at midnight on Sunday 26th November. Entries will be online only (at Fabian4.co.uk) and there will be no entry on the day. Courses will be in the range 1.5 to 3.0 km or so.
Start times are being affected by the pantomime "Beauty and the Beast" at the Helix theatre which is in the middle of the competition area: there's a matinée at 2 pm so courses will be closing before that and start times are likely to be from 11.00 to 12.30 (Oh yes they will! Oh no they won't!). If you'd like to start the Christmas season off with a visit to the panto you can get details here.
Watch this space!