3ROC Orienteering News 13 November 2019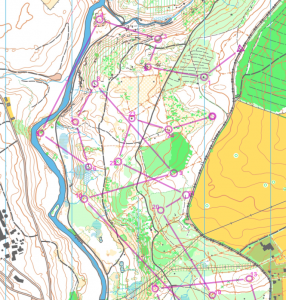 What a treat to run in the Ajax event at Cronybyrne in the Vale of Clara last Sunday – it's the best area in Wicklow and one of the best in Leinster. Varied forest, almost all runnable, with contours, crags and complex areas to test running and navigation. Marcus Geoghegan's courses criss-crossed the most interesting parts of the forest, with lots of controls and a few longer legs thrown in for route choice. Good 3ROC results included Gordon Elliot (1st Red), Valdas Tilunas (4th Brown) and Brendan McGrath (6th Green). See the full results, split times and routes here.
This weekend we have a break from League events, with a come and try it at Hellfire Woods (parking is very limited here and traffic chaos is guaranteed, even without any orienteering). If you'd like to travel further, WatO have an urban event at Fethard, Co. Tipperary on Sunday (not to be confused with Fethard on Sea in Co. Wexford!). Starts from 10 to 12. See details here.
If you were one of the Irish orienteers heading to the city races in Venice this weekend, you might have to think again: high tides and heavy rain have led to severe flooding and the city authorities have declared a state of emergency. This is not the first time the event has been hit by flooding.
Training at home continues on Monday and Thursday evening at Belfield, with circuits on Tuesday in Stillorgan.
Membership 2020 3ROC membership is now open at Fabian4 here. Just click the "Membership" tab and select "Join", or just click here.
Now, back to the forest!