3ROC Orienteering News 14th February 2018
This weekend
You may have heard the news that the Lisburn City Race planned for next Sunday, February 18th, has been cancelled. Unfortunately the organisers, LVO, were unable to get enough volunteers to help run the event. This again highlights how dependent the clubs all are on you, the members, to make orienteering happen. Plenty of people come orienteering and never join a club; others do join clubs but don't help run events. In the UK you are expected to join a club after attending three events.
Anyway, the upshot is that this Sunday we'll all expect to be at Djouce Woods for the Setanta local/come-and-try-it event, our last chance to brush up on fitness and technique before the Leinster Championships the following weekend. Start time for Djouce are 11 am to 1 pm. The Irish Orienteering Association are helping run three 30-minute instruction sessions on the morning of the event, at 10.30, 11.00 and 11.30. They are free of charge if you enter the event itself, buy you need to register to make sure you get a place as only 10 people can do each session. Details on the IOA Facebook page here. Details of the courses should be on the IOA Events Forum here before the weekend.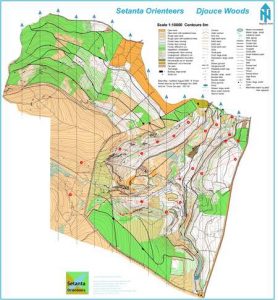 Djouce Woods overlook Powerscourt Deerpark and waterfall and provide some nice, forest orienteering with plenty of tracks and great views.
Last weekend
Last weekend we enjoyed the opportunity to run on our own map of the Pine Forest, a physically and navigationally challenging area despite its proximity to Dublin. The first route-choice of the day was getting to the event, since the normal route for most of us was closed near the Merry Ploughboy Pub as the road had collapsed. Once we got there we were presented with the usual range of League Colour Courses planned by UCD's Niall McCarthy and Jonny Quinn, with plenty of climb and cold and snowy conditions on the open on Cruagh Mountain. The organisation on the day was done by Trinity College students led by club captain, our own Clíona McCullough. It was a day of thirds for 3ROC, with 2017 Leinster Champion Valdas Tilunas 3rd on Brown,  John McCullough 3rd on Green, Karen Convery 3rd on Light Green, and Vera Murtagh 3rd on Yellow. Conor Short and Aoife McCavana were fastest man and woman on Brown and Blue, respectively. Results and routes are here.
Friday's social – the first of 2018!
We hope that many club members will join us on Friday at the Dropping Well from 7.30 pm onwards for sone light bites and a get-together. Even if you haven't told Nadya that you're coming (to ensure you get some food) you can still drop in and meet up. There will be a very short meeting as well – you should all have received an e-mail about it.
Irish Championships
The website for entries to the Irish Championships is now open, so get cracking! The competitions are in Sligo and Donegal on the first weekend of May. See here. Entries close on 15th April, the day of our next event, a League event at Carrick Mountain.
Shamrock O-Ringen entries have also opened – this three-day event is in Kerry and Cork on the first weekend in June. See details here.
Club membership subscriptions for 2018 are now due: Sign up for new members and renewals is here.
See you in the forest!