3ROC Orienteering News 15th November 2018
This weekend: This weekend's orienteering is at Deer Park forest, Virginia, Co. Cavan, where Fingal are staging a Leinster League event on Sunday 18th November. See details here. Virginia is only a little more than an hour from Dublin and it's a pretty nice forest for a run. See some previous courses here.
On Saturday, Lagan Valley Orienteers have an event at Tyrella, Co. Down, but unless you have already registered you're too late to entry now.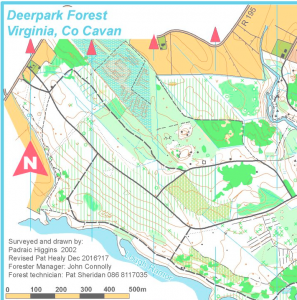 Last weeks course planning workshop attracted about a dozen orienteers from 3ROC, Ajax, GEN and Fingal. 3ROC's John McCullough went through some of the pitfalls of planning and the group all contributed ideas to the evening. Thanks to John for putting it on. A further workshop on event organisation and orienteering software is planned for the New Year.
If you're still interested in course planning, NIOA will have a session near Dungannon on Tue 27 Nov. 7.00 – 9.30 pm. Beat the Forest Planner. Led by the highly experienced planners and coaches Wilbert Hollinger (LVO) and Raymond Finlay (FERMO) this workshop will explore the tools and options available to Middle Distance and Long Distance planners in forest and open mountain terrain and then at the tools, tips and techniques that competitors can use to beat the planner! As before, while the session will be introduced and directed by Wilbert and Raymond it will aim to meet the needs of those attending. So whether you are a novice participant, an experienced orienteer or simply curious about how orienteering planners set about creating the orienteering challenge, there is something here for you.
If you would like to attend please let Philip Baxter know via news@niorienteering.org.uk
Next 3ROC event: The next club event is our Christmas Score event at Ticknock on 26th December. Lindie Naughton is organising and she will need volunteers to help on the day. Contact her at 3rockoc@gmail.com.
See you in the forest!