3ROC Orienteering News 16th January 2019
Dublin by Night starts: Night orienteering isn't everyone's cup of tea, although the very good headlights available at reasonable cost now make it much easier. We ran the first event of the 2019 Dublin by Night series last Saturday in the Phoenix Park, with two courses of 3.8 and 6.4 km. Numbers were down a bit on last year, but we had about 50 runners. Josh O'Sullivan Hourihan was a clear winner on the Long course, with 3ROC's Colm Moran second. UCDO's Róisín Long outsprinted 3ROC's Doruk Balkan to win the Short course. A perfect evening for night-O: dry, breezy and not too cold (if it's too cold all you can see in your headlight is your own breath!). For the second year we went for a mass start with butterfly loops from the first control to split up the runners. (See the courses here). Unfortunately we didn't manage to get the key to the sports pavilion we hoped to use for power, shelter and refreshments, but that didn't interfere with the running of the actual competition although it reduced the social element. Results are here.
The next DBN event is on Saturday 19th January at Djouce Woods, Glencree, run by Setanta. Details will be on the IOA Forum closer to the event here.
Last weekend also saw a Leinster League event at Castlecomer, Co. Kilkenny. This also doubled as a Munster League and a South East League event, organised by Waterford Orienteers. Planner Neil Dobbs brought the longer courses through the forest into the very unusual old gravel pit area with spoil heaps from an old brickworks: lots of contours, low visibility and challenge! There's another area a bit like this, at Knockbarron, near Kinnity, Co. Offaly, except it is a natural feature, an esker ridge. The top 3ROC result was Valdas Tilunas, 2nd on the Brown course. See the results here.
3ROC AGM: A date for your diary is the club AGM which will be on Friday 5th April at the Dropping Well in Milltown. This is the Friday of the Leinster Championships weekend. Looking at the IOA Fixtures list shows another Championships coming up – the Leinster Sprint Champs at Kilbogget Park, Shankill, on 9th March, the day before the Bull Island event.
2019 membership is now open online at Fabian4 here. Join us with a few clicks of the mouse!
2019 3ROC events:
April 14th Pine Forest Leinster League
May 19th St Catherine's Park, Lucan, come and try it.
August 13, 20, 27 Phoenix Park evening events
September 22nd Three Rock Wood Leinster League event
December 26th Christmas Score event
We may slot in a few more, but these are the current plans.
Event organisation workshop: We're planning a follow-up to the very successful course planning workshop we organised back in November. This will probably be in late February but the exact date hasn't been decided. First places will be reserved for 3ROC members and after that it will be opened up to everyone. Places will be limited to 20, so first-come, first-served!
GEN are also running a course planning workshop with David Healy in St Brigid's Hall, Stillorgan, on Saturday 16th February. E-mail brenhy@hotmail.com to book a place.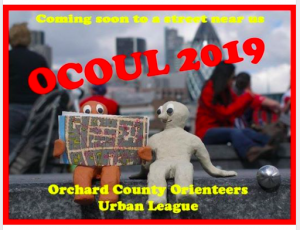 Urban orienteering: Finally, the LVO offshoot in Co. Armagh, Orchard County Orienteers, are starting a 5-race urban league on Sunday 31st March.
Remember to check the 3ROC Facebook page here and Twitter account here.