3ROC Orienteering News 16th September 2018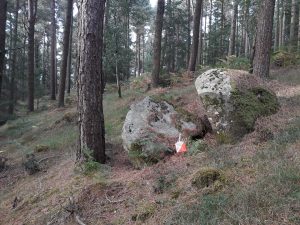 Ready for Leinster League 8 at Clarabeg on Sunday?
While you've all been off enjoying yourselves over the summer, we've been working away on getting your autumn orienteering ready. The first Leinster League event after the summer is this Sunday, 23rd September, at Clarabeg, near Laragh in Co. Wicklow.
Map: There's a new LIDAR-based map and a recent survey by Pat Healy of the area we first used in 1978 (40 years ago, for the Leinster Two Day at Clarabeg and Donadea). The remapping has again brought in the area between the road and the Avonmore River, which will be visited by the three technical courses, Brown, Blue and Green. All the courses will have a taste of the open hillside on Trooperstown Hill, followed by a section in the forest. Scale 1:10,000 with 5 m contours. The map will be A4 size on Aqualaser waterproof paper (normal paper with plastic covers for the shorter courses). You may like to bring a plastic bag for your map, particularly if it is wet. The forecast for the weekend was not good, but as of 9.30 on Friday evening it was improving, so maybe …
Courses will be pre-marked on the maps with control descriptions (in IOF symbols except for Red, Orange and Yellow in both English and symbols). Loose descriptions will also be available.
Terrain: The map covers the south side of Trooperstown Hill and drops right down to the Avonmore River across from the Claralara Fun Park. There has been a good deal of bracken growing on the hill and in parts of the forest but the worst areas have been avoided and some small paths have been cut through the bracken on the hill close to the start. The bracken has been marked on the map with vertical green lines but the edges of these areas are approximate and should not be used for navigation. There are some ticks in the area so check yourself afterwards!
The Brown, Blue and Green courses cross a short strip of very rough open with gorse and brambles towards the end of the courses. A way has been cleared through this and marked with orange streamers but you are free to choose your own route if you think it will be quicker.
A track running along outside the southeast edge of the forest is privately owned and it is forbidden to enter. It is marked with a line of purple X's on the map. Do not go in there!
Course details may be subject to a few small changes before Sunday but approximate course lengths are as follows:
Technically difficult courses:
Brown 7.5 km/300m climb/20 controls
Blue 6.3 km/260m/17 controls
Green 5.8 km/150m/13 controls
Less technical:
Light Green 3.4 km/110m/ 12 controls
Less technical, for runners:
Red 4.6 km/150m/9 controls
Easier, for beginners and younger children:
Orange 3.1 km/100m/13 controls
Yellow 2.1 km/40m/10 controls
None of the courses are buggy-friendly and all cross some fences and rough ground. There are taped routes across the rough ground on the Light Green, Orange and Yellow courses.
Officials: Organiser Kevin O'Kelly; Controller John Riordan; Planner John McCullough.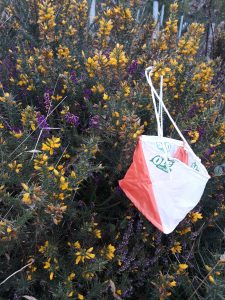 Parking is on forest roads and there will be an anti-clockwise one-way system in use. The roads are rough in places so leave the Ferrari at home. There will be runners on their courses along the road you will be using so please drive slowly and carefully.
Location: See map here. From Laragh take the R755 south towards Rathdrum. After about 1 km bear left on the L6086 and continue for about 5 km. The entrance to the forest is on the left. Continue in the forest for up to 1.5 km to park. The event will be signposted from Laragh.
Start times 11.00 to 1 pm. The start is about 300m from registration/download with about 35 m climb.
All of the courses go onto the open hillside so if the weather is bad, please dress accordingly. If waterproof jackets are required for your safety, there will be a notice at registration. You are encouraged to bring a whistle with you in case of accident. If you're interested in the weather in Wicklow, check out the Wicklow Weather Facebook page here.
You can see some Clarabeg courses from 2013 here. The last time the area was used was for the 2014 Student Championships and Leinster League.
Can you help?
We are short of helpers for Sunday 23rd in Clarabeg so if you can volunteer, please contact organiser Kevin O'Kelly who e-mailed all club members a week or so ago. No more volunteers = No more orienteering!
Would you like to join us?
New members, or returning former members, are always welcome in 3ROC. If you're a new member joining now, your subscription will run until the end of 2019. See the Join 3ROC page for details of costs and benefits. You can sign up instantly on line.
 Foreign Travel
Congratulations to our Irish team members this year – Aidan McCullough (European Youth Championships, Bulgaria in June and Junior Home International, Scotland next month); Clodagh Moran (Junior World O-Championships, Finland in July; Senior Home International in England in September and JHI); Cuan Riordan (JHI); Clíona McCullough (SHI), Colm Moran (World Championships reserve and SHI); Mary O'Connell and John McCullough (Veteran Home International, Wales in September). We think that's everyone!
Phoenix Park Orienteering: Our next event is a come-and-try-it and local event in the Phoenix Park on Sunday 14th October. This is a fund-raiser for a school building project in Zambia. Planner/Organiser Aidan McCullough is watching the Park closely to see how it is recovering from the papal mass in August! Starts will be near the Papal Cross. More details soon but please put it in your diary. We are hoping that lots of non-orienteers will come to try out the sport, but orienteers will be welcome too!
(In fact several of the McCullough family have been busy planning courses – John working on Clarabeg for next week; Eoin planning courses for Ramblers OC in Montreal for September 30th and Aidan working on the Phoenix Park for October 14th …)
Ever wanted to plan an orienteering event but didn't know what to do?
3ROC are running a few planning and organising workshops in the autumn to encourage our members to get involved in these aspects of the sport. The first will be on course planning and will be on the evening of Friday 9th November in Ballinteer. Later sessions will cover event organisation, the use of various orienteering software programs and practical aspects of planning, organising and controlling, hopefully learning from the many mistakes we have made over the years! More details later.
Summer events
Thanks to everyone who helped at our three Summer evening events in August, at Griffeen Park, Cabinteely Park and St Patrick's College/Griffith Park. Thanks also to South Dublin County Council, Dun Laoghaire-Rathdown County Council, Dublin City University and Dublin City Council for permission to run the events, and to the competitors who came and supported them. We'll probably be back in the Phoenix Park next summer as usual.
Event reminders
Northern Ireland Championships, Saturday 13th October, Pomeroy Forest, Co. Tyrone (North West OC). Entries on Fabian4. Details here. Entries close on 7th October.
Munster Championships, Blue Pool, Muckross, Co. Kerry, Sunday 21st October (Kerry Orienteers). Changed from Inch. Details now on IOA Forum here.
Connacht Championships, Woodville, Birr, Co. Offaly, Sunday 28th October (Western Eagles). Entries on Fabian 4. Details here.
In the meantime, see you in the forest!