3ROC Orienteering News 17th October 2017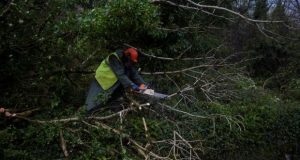 Well, it was nearly out of the frying pan, into the fire last Sunday with Setanta's league event at Glenreemore: the event was postponed from 1st October on the basis of a bad weather forecast and we were almost thrust into the arms of Ophelia instead! This didn't seem to bother either the organisers or the runners, where we saw good 3ROC runs from Finn McGrath, holding off his Dad, Gerry, who finished first and second on the Light Green course, Clíona McCullough (in DUO colours) finishing 3rd on the Green and M14 Cuan Riordan finishing 7th in his first outing on the Blue course.
Niamh Corbett (UCDO) won the Blue course and Colm Hill (CNOC) was faster on the Brown. See full results, split times and routes here.
It was to be quite a different kind of orienteering this Sunday, however, with Fingal's league event in Co. Kildare: a stately home and parkland on the banks of the Liffey, with little or no climb. Open fields and low-visibility forest are features of the area. However, the Castletown event has been postponed because the OPW have refused permission, presumably as a result of last Monday's storm.
This weekend, to get your orienteering fix, you'll need to go to Castle Archdale in Fermanagh, where FermO are running NI Colour Series 5 on the shores of beautiful Lough Erne on Saturday. Details are on the FermO website here.
On Sunday if you want to travel south, there's an autumn league event at Curragh Wood, Midleton, Co. Cork (Note: Changed from Fota Island because of the storm). Details are on the IOA fixtures page here. The Munster League event at Ross Castle, Killarney, is no on 5th November.
Remember that entries to the Connacht Championships on October 29th close soon, and Munster Champs entries are open for the event on 19th November in the Galtees. Entry on Fabian 4 here.
Club fitness training continues on Monday and Thursday evenings at Belfield and orienteers' circuit training continues on Wednesday evening in Stillorgan.
Remember to visit the 3ROC Facebook page here for lots of interesting orienteering stuff!
If you're not a club member and you'd like to support orienteering by joining up, it's very easy to join 3ROC online. Just go to the Fabian4 web site and click on "Membership". Full details are on our "Join 3ROC" page here. If you join now your subscription will last until the end of 2018, and you'll get reduced fees for event entry, a great 3ROC pen, it will be easier to arrange transport to events and you'll meet new friends and learn new skills to improve your orienteering and help you to enjoy it more! What's not to like?