3ROC Orienteering News 17th October 2018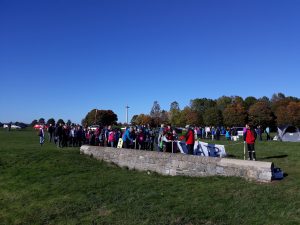 Last weekend: What a great turnout at our Come and Try It in the Phoenix Park on Sunday: more than 250 took part, many of them scouts and cubs in twos and threes, and a good smattering of orienteers among them. The autumn sunshine forced people to like on the grass afterwards and relax, have picnics and laze around. Josh O'Sullivan-Hourihan won the Long course, with Ruairi Long 2nd and our own Valdas Tilunas 3rd. Ciaran Young won the Middle and Carolina Reid won the short course. The results are here.
Thanks to all who supported the event, which was a to help course planner Aidan McCullough raise funds for the Chikuni school in Zambia.
A very wet Northern Ireland Championships last Saturday at Pomeroy, Co. Tyrone, saw only a few 3ROC runners taking part with John McCullough winning M60 and Pat Flanagan 2nd M75. Colm Hill (CNOC) and Ciara Largey (FermO) won the top M21L and W21L courses.
This weekend the main event for Leinster orienteers is the Setanta event at Massy's Estate/Hellfire Woods on Sunday: three courses from 1.6 to 2.8 km. See details here. Start times 10.30 to 1 pm. Be warned, though, that the Hellfire/Massy's area is a traffic nightmare at weekends, so car pool and/or go early.
Dates for your diary: Our next "event" is the course planning workshop on Friday November 9th at Ballinteer St John's GAA club. Anyone interested in trying course planning is invited. More details later.
Remember to visit our Facebook page.
See you in the forest!