3ROC Orienteering News 1st November 2017
Connaught Championships
Not too many 3ROC members travelled to last Sunday's Connaught Championships at Killykeen, Co. Cavan, so well done to winners Brigid Flanagan (W70) and Con Carroll (M85). Others to mention were Vera Murtagh (2nd W75), John McCullough (3rd M60), Clodagh Moran (2nd W18), Nora Lee (3rd W55) and Pat Flanagan (3rd M70).
The area will be remembered for forest, lakes, drumlins and brambles – obviously popular with walkers and families and a useful new map for people in the Cavan area to have, so well done to Sligo Orienteers for taking it on.
Well done also to the orienteers running in the Dublin Marathon the same day: to 3ROC's Valdas Tilunas who finished in 3.21.06 and to Paddy  Higgins (LVO) for a spectacular 2.39.41, coming close to Wally Young's 2.38.36 in 1980. Has any orienteer beaten Donal Burke's Dublin time of 2.34.40 in 1981? Has any 3ROC member beaten Justin May's 2.51.27 in 1983?
Incidentally, Valdas has the distinction of having beaten Thierry Gueorgiou in the 1996 Junior World Championships in Romania, when Valdas was running on the Lithuanian JWOC team …
On a sad note, some of you may know the name Adrian Tucker, who was very involved in mountain running and also represented Ireland internationally in police orienteering competitions. One of his most recent events was to organise the IMRA "Tick'Tock" race on Three Rock Mountain, for which 3ROC provided the map. Adrian died suddenly last Friday and was commemorated at the start of the marathon by his Garda colleagues forming a blue line across the start, facing Adrian's family, and he was applauded by the field of runners before the "off". He was a real gentleman, modest and unassuming, and a great loss to running sports. Adrian, incidentally, ran 2.55.28 for the 2003 Dublin Marathon, his best Dublin marathon by about 5 minutes.
Looking forward, this Sunday, November 5th, has Leinster League No 10 on the Featherbeds, an open area of hillside and turf banks above Glencree on the Dublin/Wicklow border, hosted by Ajax. Full details are here.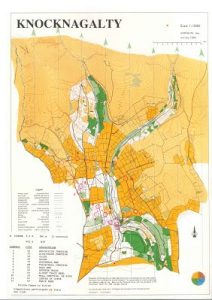 Remember to enter the Munster Championships (November 19th in the Galtees) by Sunday 5th November at Fabian 4 here.
Running training continues at Belfield on Monday and Thursday evening.