3ROC Orienteering News 21st March 2019
Some big events coming up soon – Leinster Champs entries close on Sunday 24th; JK entries (Easter in England) close on Sunday 24th; JK Relays close on Sunday 31st and early bird entries for the Irish Champs close on March 29th.
In the meantime we have the Junior time trial in the Phoenix Park on Saturday morning and Fingal's Leinster League event at Rossmore, Co. Monaghan on Sunday.
The Rossmore event is worth the trip – a nice, varied forest just outside Monaghan town. Small hills, paths, lakes, bigger hills – lots of variety. See the event details on the IOA Forum here. Courses from 2.5 to 9.2 km.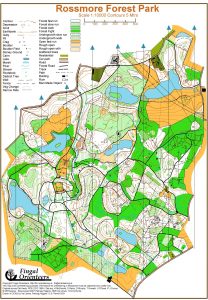 We had some 3ROC representation at the Irish Schools' Championships last week in Newcastlewest, Co. Limerick, but no prizewinners. Cuan Riordan, Ben McDowell and Aidan McCullough made the trip but came away empty-handed from courses which perhaps tested running speed more than navigation. The Leinster Schools Championships are coming up at Trooperstown on 10th April, three days after the actual Leinster Champs.
Reminder time! The 3ROC AGM is on Friday 5th April at the Dropping Well; our next event is on Sunday 14th April at the Pine Forest.
If you'd like to run on a 3ROC relay team at the JK or at the Irish Championships, contact us straight away.
So, Happy Spring Equinox, everyone!