3ROC Orienteering News 28th February 2019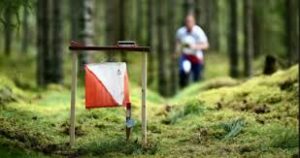 A grand day out at Ballyward last Sunday saw Colm Moran take 1st and Valdas Tilunas take 2nd on the Brown course. Colm and Valdas were the Controller and Planner of our league event at Carrick Mountain last April. Cuan Riordan took 3rd on Blue, Mary O'Connell 3rd on Green and Monica Nowlan 4th on Light Green. Well done, guys! You can see the full results and routes here. Thanks to Setanta Orienteers for running the event.
No local orienteering on this weekend but there are two events on the following weekend in the Dublin area: a sprint at Kilbogget Park, Ballybrack on Saturday 9th and a League event at the Bull Island on Sunday 10th. Recent events at this time of year at the Bull Island have had fantastic weather (shorts and T-shirts) so let's hope this year is as good. There should be details of these events on the IOA Forum here in the days before the competitions.
For your orienteering fix this weekend you'll have to go north (Downhill Forest near Coleraine on Saturday), south (Muckross, Killarney, Co. Kerry or Warrenscourt Co. Cork) or northwest (Oakport, Co. Roscommon on Sunday). See the IOA Fixtures page here for more details.
AGM Reminder: The 3ROC AGM will be Friday 5th April, before the Leinster Championships on the 7th, at the Dropping Well, Miltown. The orienteering support grants for our international team members will be presented, so make sure to be there!
Calling all Juniors: If you'd like to join the ranks of juniors on the Irish squad, come along to the Phoenix Park on 23rd March for the annual time trial/fitness test and technical training afterwards. Once you're in an O-club, no further invitation is needed!
See you in the forest!