3ROC Orienteering News 5th December 2018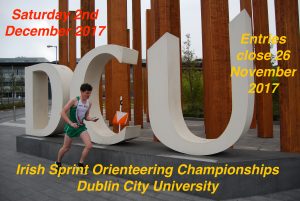 Does it seem like a whole year ago since we organised the Irish Sprint Championships at DCU? Remember the start in the tunnel, the twists and turns around the buildings and the faster sections in Albert College Park? The hot competition and indoor prize giving? Thanks again to Aidan McCullough for planning such good courses!
The 2019 Sprint Champs will be on a different terrain type, in a forest park in Co. Fermanagh on Friday 3rd May: plenty of time to prepare for it!
This weekend we're off to the Curragh of Kildare for the CNOC Leinster League event. Details are on the IOA Forum  here. It's the final LL event of the year, so your last chance to pick up points. If you haven't run on the Curragh before, it's largely open, with short grass and clumps of furze, and old army trenches and pits. Sometimes the powerlines are not marked on the map, so check before you run off in the wrong direction! Control sites and sometimes located under bushes and in small pits ( a CNOC specialty), so it can be tricky. The Curragh is a pretty bleak spot in winter so be prepared for the weather. Registration is at the Curragh Rugby Club here.
And remember – don't get distracted by the Christmas lights and possible bargains at Kildare Village outlet centre, a few minutes' drive away! In order to avoid going there by mistake, you need to know where it is: just here!
Rianadóireacht, evidently regarded as the official Irish word for "orienteering" , featured in the Irish oral exam for the 2017 Leaving Cert. Part of the exam is to tell a story, prompted by a series of pictures chosen at random by the examiner. In this story the school goes to an adventure centre and tries various activities, and all come home slán sábháilte (safe and sound) afterwards. Not everyone agrees that rianadóireacht is the best word for the sport, though: "treodóireacht" is a strong contender, while the late Nuala Creagh, at the time the IOA Juniors Officer, was in favour of "oirthear-rianadóireacht" which, although something of a mouthful, has the advantage of beginning with the letter "O", in common with many other languages.
Route to Christmas: An annual feature of the great website "World of O" is the Route to Christmas. Every day there is a new map with an interesting leg on it – all you have to do is see which way you would have gone. You can then compare your route with other armchair orienteers around the world, and with those who actually ran in the competition. These are on the WorldofO website here.
Next event: Our next event is the annual Christmas Score Event at Three Rock on St Stephen's Day, December 26th. Start times 10.30 to 12.00 only! Extra points for fancy dress. More details later.
Christmas gifts for orienteers: Some suggestions – "The Winning Eye" book, a CompassSport subscription; an SI card; an SI-Air card; a new compass; a wrist GPS; entry to the event of their choice in 2019 …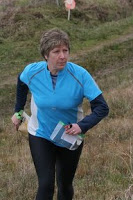 A big "Thank You" from Julie Cleary, who raised nearly £3000 for her charity: I finished my Orienteering Control Challenge in aid of the Tavistock Trust for Aphasia on the 18th November, by doing three races in one weekend:  a night event, and two races, including a yellow course with newcomers, on the Sunday.  (Please see details and photos here)
Over the course of the challenge, I ran 58.5km, climbed the equivalent of my home 3000 footer Galtymore and found 137 control flags.  
A couple of the weekends were rainy and cold.   I quote from an e-mail from Ronan to his brother "In order to achieve her target of 120 controls, it means she has to race, usually twice each weekend, in all weathers.   So, when it is cold and rainy (as it was on a couple of challenge weekends), the generous support of you and her other supporters is all the motivation she needs to overcome her natural inclination not to go out that day!"   
I couldn't have done this without him – the greatest O-shoe tie-er upper that I know 😊
But it was all worth it in the end.  The challenge raised awareness of aphasia and generosity of donations will help the Trust with people who have not been as lucky as me.
Thank you so much.
Julie Cleary. 
Join 3ROC here: it's easy, it's cheap and remember: it's more fun with a map!
Remember to visit and like the 3ROC Facebook page where there's all kinds of other interesting O-stuff. In the meantime, you can read the latest International Orienteering Federation Newsletter here.
See you in the forest!