3ROC Orienteering News 8th November 2018
Weekend News: Testing courses at last Sunday's Ajax Leinster League event at Carraig na Seabhac saw some good 3ROC runs, with Colm Moran finishing 2nd on the Brown course, Eoin and Cuan Riordan 2nd and 6th on Blue, Karen Convery 2nd on Green. Well done! Carraig na Seabhac isn't an easy area and it's not everyone's cup of tea, but there was a good turnout on the day nevertheless. See results here.
There's no local orienteering in the Dublin area this weekend but if you'd like a trip to the southeast, Waterford Orienteers have an urban event at Dunmore East on Sunday 11th for the third event in the WatO Southeast Urban Series. Note that starts are from 10.00 to 12.00. See here for some details.
The next Leinster League event is on Sunday 18th at Deerpark Wood, Virginia, Co. Cavan: it's a nice forest and Fingal usually have good events there (though the weather at the last Deerpark event was something else!). The day before (Saturday 17th), LVO are running an NI Series event at Tyrella, Co. Down,but if you haven't already registered, you're too late.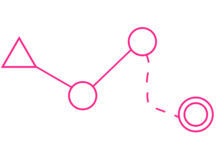 Course Planning: On Friday 9th November we have a free workshop on course planning, initially for 3ROC members but open to everyone. About 15 orienteers from 3ROC, GEN, Ajax and Fingal have signed up. John McCullough will be going through some course planning basics, illustrated with examples of good and bad planning from Ireland and abroad. There are a few places left so you can still sign up with Eventbrite here. It starts at 7 pm at Ballinteer St John's GAA Club on Grange Road.
Depending on the success of this, further workshops for members are planned.
New Members: 3ROC always welcomes new members – you can join instantly with a few mouse-clicks here. Your membership will run to the end of 2019 and it only costs €15 for an adult.
Remember to watch the 3ROC Facebook page here for other orienteering news.
2019 events
We plan to run the following events in 2019:
January 12th Dublin by Night, Phoenix Park
April 14 League event, Pine Forest
May 19 Local come and try it, St Catherine's Park, Lucan
August Three evening events in the Phoenix Park
September 22 League event, Three Rock Wood
December Christmas Score event, Three Rock Wood.
Our next event is the 2018 Christmas Score Event at Three Rock on St Stephen's Day, December 26th.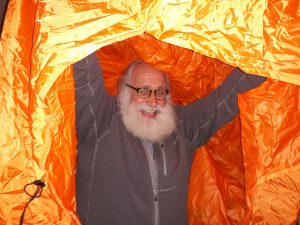 Finally, not an inflatable pumpkin, but 3ROC committee member Kevin O'Kelly demonstrating the new survival shelter which we have just added to our safety and first aid kit. Hopefully we'll never need it, but it provides shelter for an injured competitor with some helpers.
See you in the forest!