3ROC Orienteering News 9th January 2019
Night-O starts this week: The first of the 2019 Dublin by Night events is in the
Phoenix Park on Saturday 12th January.
There will be a mass start for everyone at 7.00 pm. This worked well last year so we'll try it again. Registration from 6.15 to 6.45.
Parking close to the Phoenix Cricket Club, about 400 m beyond the roundabout on the main road.
There will be two courses, of about 3.7 and 6.3 km. The courses will be gaffled (i.e. you will run sections of the course in different sequences) but everyone on your course will have the same controls eventually.
See location map here.
For insurance reasons, under-16's are not permitted to take part in night orienteering.
By public transport:take the Luas to Heuston Station and walk about 2 minutes, or take Dublin Bus 46A to Infirmary Road and walk about 15 mins) or to Conyngham Road and walk.
Tea and biscuits afterwards, as usual. Courses will close at 8.15 pm.
There is a Leinster League event at Castlecomer, Co. Kilkenny on Sunday 13th January. See details here.
The remaining Dublin By Night events this year are:
Jan 19 Djouce Woods
Jan 26 Crone, Glencree
Feb 2 Rockbrook Park School
Feb 9 Curragh (Sunnyhill)
Feb 16 St Anne's Park, Raheny.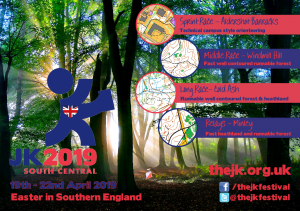 JK 2019 Reminder: If you're thinking of going to the Jan Kjellstrom O-Festival ("the JK") in England at Easter, the cheapest entries close on 13th January. It is always a selection race for the Irish Juniors so it's an important event to include in the annual calendar. Details here. Note that start times for the sprint event on Good Friday are 12.00 to 3.30. If you're an unseeded elite you will have an early start so you need to factor that in to your travel plans. This year's entries are not cheap (up to STG£30 per day for adults for a March entry to the Long race). Junior/student rates are roughly half that. In comparison to these fees, the saving for an early entry isn't actually huge. If you're not fussed about running in a Championship class, just enter  a colour course which is a lot cheaper. Relays entries can only be made by a club nominee and are frighteningly expensive (£70 per team of three for adults). 3ROC pays for club teams (at Irish Champs and JK, for example) so that's another good reason to join the club! (We also give grants totalling about €1000 per year to 3ROC members selected for Irish teams, so bear that in mind too!).
See JK2019 details here.
The next 3ROC events for 2019 are:
January 12 Night-O, Phoenix Park
April 7 Leinster League, Pine Forest
May 19 St Catherine's Park, Lucan,  come and try it event
August: three midweek evening events
September 8 Leinster League, Three Rock
December 26 Xmas Score event.
There may also be a couple more in there but that's what's planned at the moment. We'd love you to volunteer to help!
Finally, annual subscriptions to 3ROC are now due for 2019. Join or renew your membership on line here.
Have a great orienteering year in 2019 and see you in the forest! It's more fun with a map.