3ROC Orienteering News 9th October 2018
Last weekend: A busy weekend last weekend and another one ahead in a few days! Well done to the Irish Junior team on beating Wales at the Junior Home International in Scotland last weekend. 3ROC had Clodagh Moran, Cuan Riordan and Aidan McCullough on the team. Clodagh had the best Irish result overall, finishing 3rd in W18 and Aidan was the best of the Irish M18's. At the halfway mark on Saturday night Ireland lay 3rd, 4 points ahead of Wales. In Sunday's Relay race we pulled a further 6 points clear to finish 10 points ahead of Wales, with Scotland finishing first and England second.
The terrain was challenging, with plenty of climb and difficult underfoot conditions and all in forest, with courses planned to discourage road running. You can see the full results and the courses and routes here.
At home we had the luxury of running on our home turf when GEN staged Leinster League 9 on our map of Three Rock. As predicted on the IOA Forum, there was quite a bit of climb on many of the courses. John Riordan's suggestion on the IOA Forum of running on the Curragh and Donadea (both relatively flat) to bring your annual climb figures back to less than the recommended 4% was a good one! (You could also add next Sunday's event at the Phoenix Park for good measure). You can see the results, courses and routes here. Eoin Riordan was 3rd on the Brown course, Mary O'Connell 4th on the Green and Stan Cox 3rd on the Yellow course. We hope that GEN's Mike Jordan enjoyed the challenge of planning courses on an area where it's difficult to avoid inflicting climb on the runners!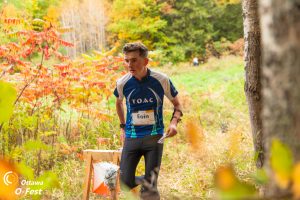 Meanwhile last weekend in Canada, Eoin McCullough finished 3rd in the Middle Distance race at the Ottawa O-Festival in the spectacular autumn colours of the north-American forests. Here he is sporting his Toulouse O-top. How many clubs can you be a member of at the same time? 3ROC, DUO, TOAC, Ramblers OC …
This weekend we have the Northern Ireland Championships on a new map at Pomeroy, Co. Tyrone on Saturday, and our Come-and-try-it event in the Phoenix Park on Sunday. A disappointing entry for the NIOC organisers (only 111 runners) and the most competitive class is M55 with 14 entrants. The combined M21 Long and Short only have 4 runners, in a 15-year age class: can anyone explain that? The combined W21 classes only have 6 runners. Where is everyone?
The Phoenix Park event on Sunday will have three courses of about 2.5, 4.5 and 6.5 km, starting close to the Papal Cross. The event is a charity event to raise money for a school project in Zambia which the course planner, Aidan McCullough, is involved in. All the money raised goes straight to the project in Zambia. Start times are from 11 to 1 pm. Please come along and help and/or run, and encourage your friends, neighbours and workmates to do the same. Thanks to the Office of Public Works for permission to use the area – this is the only daytime orienteering event in the Park this year.
See a location map here.
Public transport: LUAS red line to Museum or Heuston Station and walk; buses to Parkgate Street or Chapelizod and walk; bus 37 to Blackhorse Avenue. All of these options involve a walk to the start, which is pretty much in the centre of the Park.
Open House Dublin this year includes a tour called "The gates, ponds & history of the Phoenix Park" from the Parkgate Street entrance at 12 on Sunday, and the Phoenix Park "Parkitrek" at the Visitor Centre on Sunday from 12-5 – plus lots of amazing buildings to visit all weekend! Combine OHD with orienteering in the Park on Sunday. See Open House Dublin.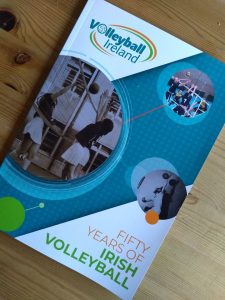 Bookshelf: Following on from the publication of Seán Rothery's recent book, "Here come the mountainy men", Lindie Naughton has added a history of Irish volleyball to her list of publications, to mark the 50th anniversary of Irish volleyball. You can get it from Volleyball Ireland.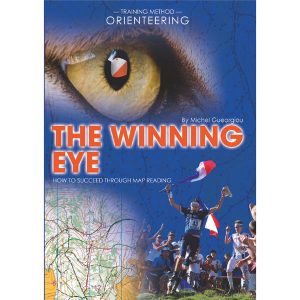 If you were at the Junior training camp in France over the summer you may have seen Michel Gueorgiou's book, "The Winning Eye". It deals a lot with perception and psychology rather than fitness and basic navigation, but his method has been used by the club at Saint-Etienne in France for years and has produced both national and world champions. To benefit from it fully, you need to be fit and to understand the basic orienteering stuff – this may improve your performance once you have done the basics yourself. It also includes lots of training exercises for both adults and kids and, as a bonus, is available in English or French at €25 plus postage from Orientsport.
Event reminders:
Munster Championships, Blue Pool, Muckross, Co. Kerry, Sunday 21st October (Kerry Orienteers). Details on IOA Forum here.
Connacht Championships, Woodville, Birr, Co. Offaly, Sunday 28th October (Western Eagles). Entries on Fabian 4 here. Details here. Entry fee goes up after Friday 12th October.
Don't forget the 3ROC Facebook page for more news and information.
See you in the Phoenix Park on Sunday!