3ROC Orienteering News December 2019

Gearing up for Christmas – are you following the annual "Route to Christmas" on World ofO? You'll have a new map every day with an interesting route choice leg from an event somewhere in the world. Think about how you would tackle it and, if you like, put in your proposed route on the map. Then you can see how all the other armchair orienteers would have done it, and – finally – how the runners did it in reality. Follow the Route to Christmas here.
If that's not enough for, you, vote on the "Course of the Year" at WorldofO here.
At home, we're gearing up for the annual St Stephen's Day score event on Three Rock/Ticknock Wood on December 26th. Eoin Dunne is working away on the courses and the elves are busy sorting out the controls, the maps and all the gear we need for the day. Eoin needs a few more elves on the day, though, so don't be afraid to volunteer: without Santa's little helpers there won't be any orienteering! Please note the earlier start times: 10.30 to 12.00, with courses closing at 1.00 so we can go to the Lamb Doyles, or home for the dinner. Three Rock Wood is a very popular spot for mountain biking and walking and parking can be limited, so try to come early. Extra points for fancy dress, and the usual Christmassy refreshments afterwards, so if this is part of your annual Christmas ritual, then come along and meet everyone!
If you're up for a run on Christmas Day, then come up to Three Rock for the 40-somethingth (42nd?)  annual 3ROC Christmas run, a fairly casual affair at about 11.30 …
If you're free on Sunday 15th December, how about an urban event in Armagh? The OCOUL (Orchard County Orienteering Urban League) continues. Details here.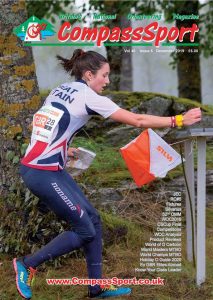 If you haven't done all your Christmas shopping, how about a subscription to CompassSport magazine? The December issue has a guide to the big multi-day events of 2020 – essential reading for the armchair orienteer!
2020 Vision We're not taking much of a break over New Year – our next event is the first Dublin by Night event in the Phoenix Park on Saturday 4th January. Aidan McCullough is busy planning the courses – there'll be a mass start for everyone at 7 pm and the courses will be gaffled so you'll all be running in different directions at the same time. The format worked well the last two years so we'll do it again. Parking is at the Camogie car park across the main road from the polo pitch. We'll need a few volunteers for this, and for the next night event as well.
The Dublin by Night series continues on Saturday evenings but we'll be back again on Saturday 25th January with another Northside Night-O, this time at DCU, St Patrick's College, Drumcondra. This will be a semi-sprint, with two fast and furious courses and lots of controls. You can check out the whole DBN series on the IOA Fixtures page here.
The Curragh on December 8th was a rather bleak prospect, with rain and high winds forecast and not a scrap of shelter to be had. Nevertheless, the orienteering and the O-maze did attract a good crowd, including Cuan Riordan (2nd Blue course), Valdas Tilunas (4th on Brown), and Pat Flanagan 4th and Mary O'Connell 5th on the experimental Short Green course.
An invitation to join up, or rejoin, as 2020 club subscriptions are now open here. It's just a few painless clicks away!
Thanks to all the club members who helped at our events during the year – we hope to see you all again soon.
Don't forget to "like" the 3ROC Facebook page here – you'll find all kinds of orienteering bits and pieces there!