3ROC Orienteering News, September 2019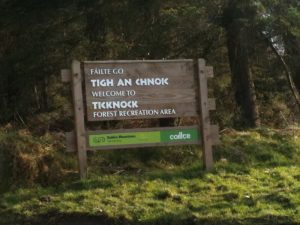 Welcome back, everyone, after your summer break! There's been plenty of activity in the orienteering world, with 3ROC runners at many events, large and small, around the world, including the Junior World Championships, World Championships, World Masters' Championships, Scottish 6-Day, Senior Home International, European Universities' Championships, Swedish O-Ringen and probably several more …
Our next event is on Sunday at Three Rock Wood, Ticknock. The call for volunteers has gone out but we can always use some more help: if you can't help on the day, perhaps you can put some controls out on Saturday? It's a Leinster League event so there will be the usual 7 courses:  from Yellow (easy), Orange, Red, Light Green, Green, Blue to Brown (Difficult). Details will be on the IOA Forum here later in the week. Course lengths are below. Ger Butler is planning, John Riordan controlling and John McCullough organising. Start times as usual, 11 am to 1 pm. See a location map here. Signposted from the Blackglen Road between Lamb Doyle's and Marlay Park. You can see the map and some previous courses on Routegdget here. (PS If you're following the Rugby World Cup, Ireland v Scotland is at 08.45 Irish time, so you should still make the orienteering …)
Courses for Sunday 22d September: Yellow 2.1 km/80 m climb; Orange 2.8 km/120 m climb; Red 4.4 km/200 m climb; Light Green 3.7 km/225 m climb; Green 4.3 km/265 m climb; Blue 5.8 km/325 m climb; Brown 8.1 km/435 m climb.
Toilet on Sunday: An IOA programme of funding toilets at events kicks off this weekend, where we have arranged that orienteers can use the toilet at the Mountain Bike base close to the entrance to the forest, so please don't relieve yourself in the forest, use the on-site toilet instead. Thanks to IOA and to biking.ie for facilitating this. Visit Biking.ie here.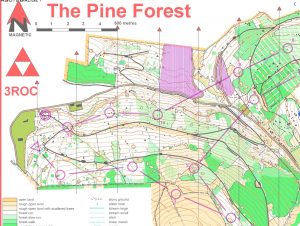 On Saturday morning, 21st September, GEN's David Healy is organising orienteering training for everybody at the Pine Forest. It's free but you need to book in beforehand to make sure there are enough maps. See details on the IOA Forum here. The training will be in different areas each time.
What else? Thanks to the planners, organisers and helpers who ran our three Tuesday evening events in the Phoenix Park in August. After this week our next scheduled events are the Christmas Score Event, again on Three Rock on December 26th, and a Dublin by Night event in the Phoenix Park in January.
Remember – Running training on Monday and Thursday evenings; 3ROC O-gear is available from the club.
Good luck to our international reps – Karen Convery running her first Veteran Home International in Scotland on the 21st/22nd, and to our runners in the Mournes Mountain Marathon and the London City Race on the same weekend.
Good news about the Permanent Orienteering Courses at Ticknock, which had suffered from neglect and vandalism. The have been revised and the map updated and two courses are now ready – download the map here and go any time to do it yourself.
Remember to "like" 3ROC on the club Facebook page here and to keep checking back for updates on 3ROC activity and orienteering generally.
See you in the forest!