3ROC weekly news 2 December 2014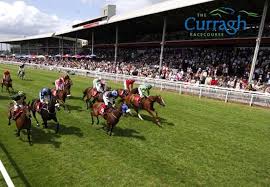 The last Leinster League event before Christmas is on the Curragh on Sunday. The usual start times, 11 am to 1 pm, with the usual colour-coded courses from easy yellow up to long and difficult Brown, with the new Red course for people who want a good run but not too much navigation, nestling in the middle. See the CNOC web site here for details.
CNOC have traditionally run an event on the Curragh on the first Sunday in December, which provides an excuse for the shoppers among you to call in to the Kildare Village outlet centre afterwards. If this isn't enough, there's going to be a fundraising sale of unwanted O-gear in aid of the Irish Juniors at the event on Sunday, so bring and buy.
This weekend also sees a Junior Training Weekend in Wicklow with World Championship team star Nick Simonin, home from Sweden. The weekend includes training in Wicklow on Saturday, a talk by Nick on Saturday night, and the Curragh event on Sunday.
The following Sunday, December 14th, GEN have a local event at Corkagh Park, Clondalkin, near the newly-opened Newlands Cross flyover.
Thanks to all who turned up to help at our event at Griffeen Park last Saturday. The early morning fog lifted to provide nice conditions for running in the par and we managed to attract some of the Parkrun people, with several complete beginners and other passers-by interested in trying orienteering some time. The results are on the Results page of the 3ROC web site here.
Our next event is the annual Christmas score event on Three Rock (Ticknock) on St Stephen's Day, 26th December. Can you come and help? We'll have more details soon. Pat Flanagan is planning the course – the format is as usual: you have a set time to visit as many controls as you can, in any order.
In the meantime, follow the Route to Christmas on World of O.
Training continues at Belfield on Monday and Wednesday evenings.
New O-suits are on order.
Remember 3ROC Facebook and Twitter for the latest news updates.
See you in the forest!