3ROC run Wicklow Way Relay on Saturday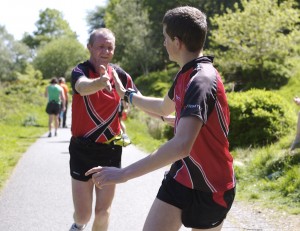 3ROC again have a team in the IMRA Wicklow Way Relay this Saturday, starting at 7 am at Marlay Park and finishing around 5 pm 127 km later at Tinahely, in south Wicklow.
Nadya Dunne was to run the first leg from Marlay over Three Rock, Glencullen and Prince William's Seat to Glencree where she would hand over to husband Eoin. However, she now finds she can't run so Eoin ia taking over the first leg and John McGrath will come into the team to run Leg 2.  Eoin's expected time is 1 hour 35 mins for the leg. John then runs by Powerscourt Waterfall, Djouce and White Hill to Lough Tay and hands over to Emma McAuley  after a leg of 15 km with nearly 800 metres climb. Emma runs the  8km to Oldbridge, near Lough Dan where she hands over to guest runner Christian Krueger running to Glendalough, expected arrival time a couple of minutes after midday.
Colm Moran takes over for the 13.6 km leg to Drumgoff where he hands over to Martin Price, running to Iron Bridge. Martin hands over to Ger Butler for the longest leg, 21.2 km to Crossbridge and he hands over to Lindie Naughton for the final run to Tinahely.
You can read about the race on the IMRA site here.
Good luck to everyone, and thanks to Gerry Cunningham for coordinating the team! We hope to have a race report for you afterwards. Good luck also to the solo runners who start at midnignt on Friday to run the whole way themselves. Eoin Keith sounded very relaxed on RTE Radio this morning.