All Smiles at Carrick
It was great to see finishers smiling broadly when they crossed the line at today's mountain bike orienteering event at Carrick Mountain. "Deadly!",  "I really enjoyed that!", "That was great!" were typical responses to the course.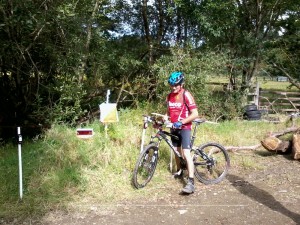 GEN's Alan Ayling blew the field apart with a time of 63.19 for the long course, nominally about 16 km, with Mick Farrell (IMBRC) second in 70.44 and 3ROC's Justin May a scant 4 seconds behind. M14 Kevin Cunningham (3ROC) ("Deadly!") was the only one to take on the shorter course, with a respectable time of 92.14 in his first outing.
Conditions were perfect: dry and mild with some muddy tracks and some really deep puddles: after all, MTBO is just about grown-ups acting like kids and getting all muddy without any repercussions!
It was disappointing, though, that only 21 took on the challenge. MTBO is enormous fun – I can't understand why more peopele don't try it.
The final MTBO race of the series is on Sunday 7th October on the Curragh.  The three events provide three quite different challenges: single-track riding on Djouce, fast roads and route choice on Carrick, and … well, nobody knows exactly what on the Curragh!
Anyway, if the competitors got as much fun out of the event as I did planning it, they will be satisfied.
See the results, split times and routes here.
John McC