August Orienteering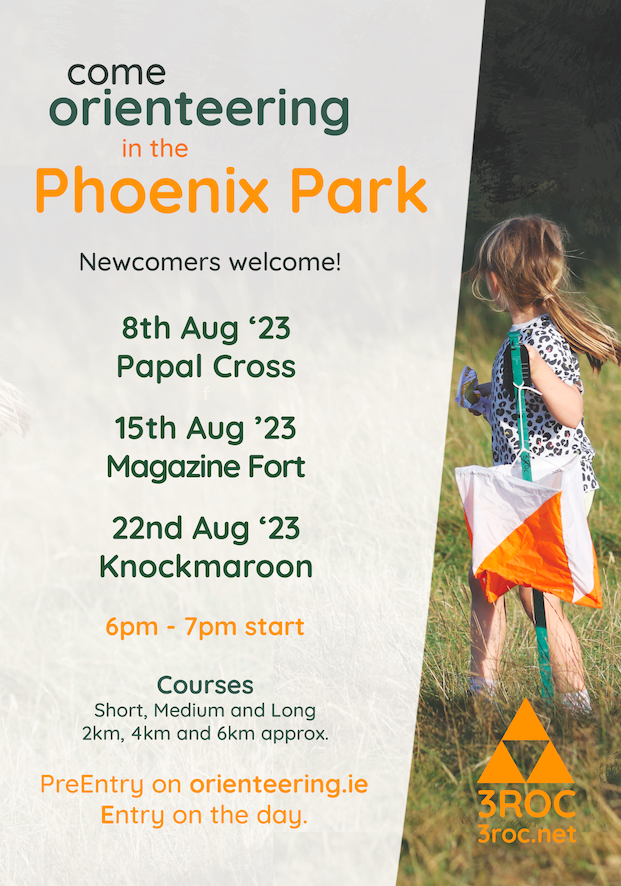 Join us in the Phoenix Park for three Tuesday evening events on the 8th, 15th and 22nd of August. The events are aimed at first-timers and beginners but everyone is welcome.
On the 8th we will start near the Papal Cross car park here, on the 15th at one of the two car parks near the Magazine Fort here and on the 22nd at the Fully Glen/Knockmaroon car park here.
There will be three courses each evening, of about 2, 4 and 6 km. Start times from 6 to 7 pm and courses will close at 8 pm. You can get to the Phoenix Park by bike, on foot, by bus and by LUAS. Bus and LUAS will involve a walk from Parkgate Street, Heuston Station, Blackhorse Avenue or Chapelizod Road. If you're travelling by car, the Islandbridge gate of the Park is out only and the Chapelizod gate is in only.
You can enter online – please do this if you can – entries close on the Sunday evening before each Tuesday. If you enter online you get an early-bird discount and it means we can get your nam into the results system beforehand, which makes it easier for everyone.
Online entry is here – just click on which event(s) you want to enter on the fixtures list.
There are several follow-on events during September and you'll see them in the list.
Members will be sent details of the club barbecue and the hike in September, plus advance warning of a League event on 8th October, so make a note in your diaries!
Fitness training for orienteers and others continues on Monday and Thursday evenings at UCD Belfield with another run on Saturday morning.
On the Interntional front, the Home Internationals are coming up in September and October (Seniors in Wales on 9/10 September, Veterans in England on 30th September/1st October and Juniors in England on 7th/8th October).
More for your diaries – the (postponed) Leinster Championships and on 17th September in Wicklow and the Northern Ireland Championships are on October 14th.
See you in the Phoenix Park!