Autumn Orienteering
Phoenix Park #3 Well, we have now had two of our three Tuesday evening events in the Phoenix Park, with up to 100 runners at the Magazine Fort event. There was a slight hiccup when we arrived at 4 pm to put out the controls – the road by the Magazine Fort was closed off as there was filming going on. We sneaked around putting out controls and saw no evidence of filming but they had moved away and reopened the car park by 5 pm so all was well.
The final event on August 24th is at the Furry Glen, inside the Knockmaroon gate of the Park. Due to Covid, the event is pre-entry only. Entries are open until 11.59 pm on Sunday night here.
There are three courses of about 2.2, 4.5 and 7.5 km. We'll be using contactless punching at controls, so bring your SportIdent SIAC card if you have one.
Start times are earlier: 6 pm to 7 pm, and courses close at 8 pm.
See location map here.
Fixtures The fixtures list is gradually filling up again. Other events coming up include an urban event in Balbriggan on August 29th and a Leinster League event in Cushbawn, Co. Wicklow, the same day. [UPDATE 24th August: It looks like the Cushbawn event never made it past the "draft" stage on the Fixture list so forget about it for the moment]. There's a League event at Fauna, Donard, Co. Wicklow on September 5th
International News The Irish team are running this week in the European Youth Orienteering Championships in Lithuania. You can follow the runners GPS here https://eyoc2021.lt/
Good luck to all the team!
M18 Dan Earnshaw, Eoghan Whelan, Liam Cotter, W18 Meadow McAuley, M16 Dan Murphy, Daire O'Brien, Oliver O'Kane, Oscar Rowe, W16 Emily Rowe.
The Junior World Championships are also coming up early next month in Turkey and the team is Aidan McCullough (3ROC), Aoife O'Sullivan, Darragh Hoare, Eoghan Whelan, Liam Cotter, Rachel Collins, Peter Reed. Good luck to them too!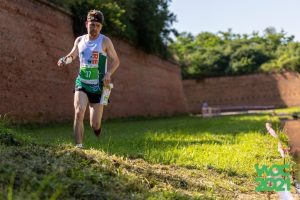 The Irish team recently took part in the World Championships in the Czech Republic. Here is an interesting insight into the training and performance of one of the team, Josh O'Sullivan Hourihan, particularly relating to the Sprint race.
It's great to be able to sign off with "See you in the forest!" again …