Countdown to Christmas!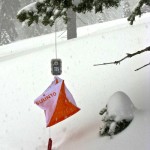 The wind-down to Christmas has started, soon to be followed by the sudden realisation that we have an event to run on St Stephen's Day on Three Rock, as much a tradition as Leopardstown Races, the fancy dress motorcycle scramble in the Slade Valley or the Wren Boys in Sandymount. Start times for the Christmas Score event are 10.30 to 12.00 at the main Ticknock car park, beloved of mountain bikers since the installation of the MTB trails – but remember:  we were there first!
A score event is where you have a set time to visit as many controls as you can,  in any order.  Each control point has a points value, often with the furthest away ones worth more. Anyway, there'll be more details closer to the time.
Another 3ROC Christmas tradition is the Christmas Day run, now in (I think) its 37th year. Every Christmas morning a group of mostly 3Rock orienteers run up around Three Rock, Two Rock and the general area to work up a bit of an appetite and get wet and muddy. Sometimes there's a big group, sometimes just one or two, some go for a gentle jog, some go for something tougher, but it blows away the cobwebs. Another option for Christmas morning is the Goal Mile. This year's venues include Ringsend stadium, Phoenix Park, St Anne's Park, Sundrive Road and Kilbogget Park. Details here.
In the meantime, there's club fitness training at Belfield on Thursday.
And don't forget the next night-O which we are running in Phoenix Park on Saturday January 4th at the Garda Athletic Grounds opposite the Polo Grounds. Start 6 to 7 pm, two courses – a good, fairly gentle introduction to night-O and an opportunity to try out the new headlights that you all got for Christmas.
If you're looking for ideas for that last minute Christmas present for the orienteer in your life, why not get a new 3ROC orienteering top or one of those Regatta soft-shell club jackets? See the designs here. Maybe an SI card? See the selection and design your own here.
Remember:
1 Stephen's Day Score Event 26th December, Ticknock, 10.30 to 12.00 start; – also please remember that we need volunteers to help. Contact  the organiser Gerry Cunningham at 3rockoc@gmail.com to offer to help.

2 Night-O, Phoenix Park, Saturday 4th January.