Hundreds try O at Farmleigh
Hundreds of people tried orienteering for the first time at the Athletics Ireland Family Fitness Festival at Farmleigh last Sunday. As soon as the one mile fitness challenge was over (Aidan McCullough (3ROC M11) finished 11th, though it wasn't really a race), the queue for the orienteering started.
Jean Mullen, Gerry Cunningham, Lindie Naughton, Deirdre Nagle, the McCulloughs, Ger Butler and visitor Roxanne White with her string course managed to keep the people moving.
The 1.8 km/18 control course was just right for the day: times ranged from 8 minutes to over an hour.
We used the new 3ROC SportIdent kit which worked perfectly, with the new club laptop and printer, using Martin Flynn's Ór software and the Leinster collection of SI cards. Only one card went missing and we are hot on the heels of the culprits …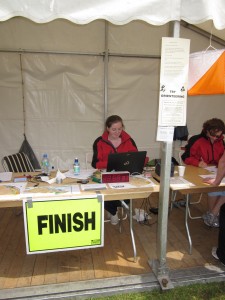 The new map, revised by Pat Flanagan, was great, and AAI arranged to have details of forthcoming O-events and contact details printed on the back, so we may see big crowds coming to our four Phoenix Park events on Tuesday evenings in August. Here is the map and course: Farmleigh 2012.July 1 2012.
See the full results on the Results page.
Well done everyone!