Irish Sprint Orienteering Championships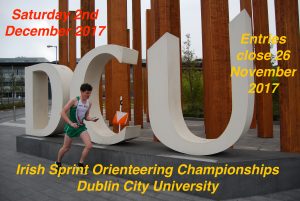 Good news! We just heard that we have permission from Dublin City University to run the event on Saturday 2nd December.
Entries are live  here. Please note that entries will close at midnight on Sunday 26th November and there is no entry on the day. Entry fees are Adult €10, Student €6, Junior €5.
Sprint orienteering is for everyone – it doesn't mean you have to run faster, you just have to think quicker,  make consistently good route choices and maintain your focus. Come and try it at DCU on 2nd December!
See details here.