Leinster Championships – 23rd October 2022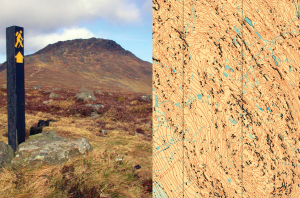 It's nine years since we've been orienteering on Slieve Foye, overlooking Carlingford, Co. Louth, but you'll all have your chance to experience this fantastic area at the Leinster Championships on Sunday 23rd October.
Entries are open at Fabian4 here and the reduced entry fee will apply until 9th October, with a higher fee from 10th to 16th October. All entries will be online in advance so there will be no entry on the day and entries close on 16th October, a week before the competition.
Entry fees are €20 for adults, €15 for Over 65's, students and unwaged and €10 for juniors, family rate €50. Fees are €25/20/15/65 from 9th October.
Start times are 10.30 am to 1 pm.
In addition to the Championship courses, there will be three Colour Courses (Light green, orange and yellow) and some non-Championship classes M21L, W21L – see the list below. Non-Championship classes have an asterisk*.
Aidan McCullough has been busy planning the courses – he's just back from a week's training in Sweden, so who knows what ideas he has come up with to challenge the runners.
The area was first used for the 1993 Irish Championships and has since been used for Irish and Leinster Championships, league events and both Senior and Veteran Home Internationals.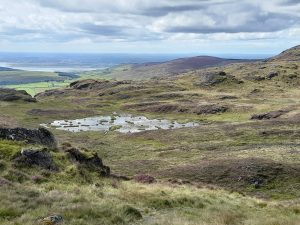 Despite being pretty steep, the going underfoot is fast and runnable, with no bracken or gorse and only short heather, and the sheep keep it that way. Large crags, small marshes, boulders and terraces are strewn all over the area, with ponds, lakes and boulders. There are essentially no paths or tracks and hardly any man-made features, just a few small earthbanks in the area near the finish. Another feature of Carlingford Mountain is that it often has its own weather system – the upper parts can be shrouded in mist when the other hills in the area are clear.
In accordance with the Rules of Orienteering, the area is now embargoed so no training is permitted before the competition.
The terrain is all open mountain so all competitors will have to to carry a whistle and, if conditions on the day require it, a cagoule/waterproof jacket may also be needed.
This is a sheep-farming area so no dogs will be allowed in the parking field or in the competition area.
There will be a charge of €2/£2 per car for parking, collected at the entry to the parking field. Entry to the parking field is at the top and exit at the bottom, unless weather conditions dictate otherwise.
The area is one of the best in the country and you'll enjoy the challenge of Carlingford in 2022!
Courses, classes, length, climb and map scale: provisional course lengths/climb are subject to final controlling.
High Start (2 km+, 30 mins walk)
1    M21E   11.5 km/420m     1:15000
2    M18E M20E W21E   7.4 km/360m     1:15000
3    W18E W20E    5.4 km/290m     1:15000
4    M35 M40 M45 M21 Long*    7.3 km/335m     1:10000
5    M50, Men Long*   7.0 km/320m    1:10000
6    M16 W35 W21 Long*   5.8 km/310m    1:10000
7    M55 M60 W16 W40   5.0 km/255m    1:10000
8    M65 W45 W50, Women Long*   4.5 km/235m    1:10000
9    M70 W55 W60 W65, Men Short*   3.8 km/225m    1:10000
Low Start (1 km, 15 mins walk)
10    M75 M80 M85 W70, Women Short*  2.3 km/143m    1:10000
11    M90 W75 W80 W85 W90    1.8 km/110m    1:10000
12    M14 W14, M16 Short*, W16 Short*, M18 Short*, W18 Short*, Light Green*    2.9 km/165m    1:10000
13    M12 W12, Orange*      2.2 km/135m    1:10000
14    M10 W10, Yellow*      1.9 km/110m    1:10000
Non-championship classes are marked with an asterisk.
Courses 10-14 will use the Low start, about 15 minutes walk from assembly; Courses 1-9 will use the High start, about 30 minutes walk from assembly.
More details of the event will be posted here as they emerge, on the 3ROC Facebook page and on the Orienteering Ireland Forum.
Here is the Routegadget from the last event in Carlingford, the 2013 Senior Home International and Leinster League event. You will also find more photographs of the terrain here, from the internet.
You can read about the geology of the area here if that interests you!