Mays win Fingal Relays for 3ROC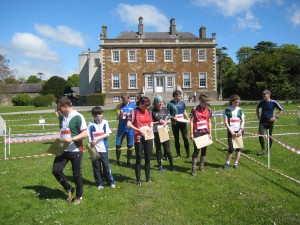 The May family of Una, Cian and Justin mopped up the opposition today in winnming the Fingal Relays at Newbridge House, Donabate, on the first (the only?) day of summer.
CNOC's Don Short rather rashly issued a challenge to other families to take on the Shorts in the relay and several family teams entered, although this was by no means a condition for entering. The McCavanas (GEN), McCulloughs (3ROC) and O'Boyles (CNOC) were among the challengers, with a mixed Pim/Cox team from Waterford.
The event was run for Fingal to get practical experience of running relays in advance of the Senior Home International which we are running with FIN next September.
Nigel Pim (WatO) led the first leg, with Una May second and Clíona McCullough third, but WatO's second leg runner, Andrew Cox, mispunched the first control and was disqualified. Cian May was close on Andrew's heels with Aidan McCullough chasing on leg 2, and then Don Short mispunched for CNOC, leaving two of the leading teams out in the cold. Good runs from Cian and Aidan allowed dads Justin and John to go on the third leg, but an early mistake by John in an area of low visibility forest cost him time and Justin ran clear of the field.
The final finishing order was May (3ROC) , O'Boyle (CNOC), McCavana (GEN) and McCullough (3ROC), if I remember right.
A grand gallop on a lovely sunny Sunday.
This week's events: orienteering on Tuesday evening at Donadea, near Clane ( details here); Wednesday evening: hill race at Glasnamullan (up Djouce)  (details here); club training in Belfield on Monday and Thursday evening; Wicklow Way relay on Saturday 25th (entries closed). – more details of the 3ROC Wicklow Way Relay team soon …