Night-O: Phoenix Park, Saturday 4th January 2014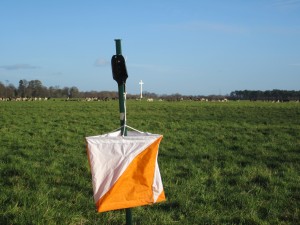 We're running the second event in the "Dublin by Night" series this Saturday in the Phoenix Park.
Start times are 6 pm to 7 pm at the Garda sports grounds, on the SW side of the main road opposite the Polo grounds.
There will be two courses: Long (7.4 km, 18 controls, 1:10000 scale map) and Short (4.3 km, 11 controls, 1:7500 scale map).
Maps will be pre-marked and will have control descriptions. Courses will close at 8.30 pm so if you think you're  going to be slow, don't wait until 7 pm to start!
Travel: By car, from Parkgate Street pass through the roundabout with the Christmas tree near the Wellington Monument and go a further 400 m or so. Take the second small road to the left and go to the car park at the end of the road. Registration, start, finish, changing and refreshments will be in the pavilion across the football field from the car park.  See the map extract further down the page.  Don't leave valuables visible in your car.
Public transport: The 46A bus terminus is at the NCR gate of the Park about 10 mins walk from the start. Other buses serve Parkgate Street (25, 26, 66, 67, 69) and the LUAS Red Line serves Heuston Station, about 20 mins walk from the start.
Note: for insurance reasons, night events are only open to M/W16 classes and older.
For more information on the Phoenix Park, including some interesting historical maps, see the Phoenix Park web site here. Thanks to the OPW for permission to run this event.
For any final information watch the 3ROC facebook page here.