Orienteering News 26th February 2020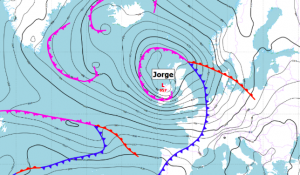 Update: Check the IOA Forum here or Facebook page here for weather updates in case of cancellations. A decision on the Curragh night-O will be taken around 3 pm on Saturday. The Phoenix Park time trial on Saturday has been postponed. There should be news of the Brockagh event also.
There is plenty of orienteering on this weekend, including a night event on the Curragh, Co. Kildare on Saturday and a Leinster League event at Brockagh, near Laragh, Co. Wicklow on Sunday. You can see details of these events on the IOA web site here, or on the respective club websites here for the Curragh and here for Brockagh.
The courses on the Curragh are 2.9 and 5.2 km with start times from 7.00 to 8.00 pm to make sure it's properly dark. The start is on the south edge of the Curragh, here. This is part of the Dublin by Night series and is restricted to 0ver-16's.
The courses on Brockagh range from 1 km (Yellow) to 8.7 km with 280m climb (Brown) and are on open mountain so waterproof jackets (which orienteers still call "cagoules" for some obscure historic reason) may be compulsory. It can be quite a drive on a rough track in to the parking area in the forest so (a) don't bring the Ferrari and (b) give a lift through the forest to anyone who came by public transport. The forest entrance is up past St Kevin's church in Laragh, here.
Also on Saturday, LVO have an event at Parkanaur forest near Dungannon, Co. Tyrone, where the 2019 Irish Relay Champs were held. See details here. Start times 12.00 to 13.30.
Time trial For any Juniors or younger Seniors interested in selection for national teams, the famous time trial/fitness test in the Furry Glen at the Phoenix Park is also on this Saturday (Feb 29th) from 11 am, so make a leap forward and see how you get on! There is technical training in the Park afterwards, planned by World Championship team member Josh O'Sullivan-Hourihan. Membership of the junior squad is open to all juniors from age 12 up – all you have to do is ask to join. The M/W20's who have just moved up from the junior ranks this year also do the time trial as it is necessary for selection for events like the Junior World Championships.
Last Saturday's Setanta Orienteers night-O at Massy's Woods, across the road from the Hellfire Wood, used the lovely beech forest below the road and avoided the thicker vegetation, while throwing in a few legs around the ruined gardens of the old Massys' Estate . The results and routes are on the IOA results page here.
Last Sunday Fingal Orienteers gave us a run around the National Sports Campus in Blanchardstown: not a very demanding area but just right for what was designated a "come and try it" event: a mixture of fields, forest and all-weather pitches, very wet and slippy underfoot in places but great to experience a new area. The map was produced by IOA and hopefully will be a useful promotional vehicle for orienteering in the very nerve centre of Irish sport. See results here.
The next 3ROC event is at Griffeen Park, Lucan on 15th March, so watch this space for more information. Can you offer to help at the event? Please do – volunteers are always needed and will be most welcome.
Remember to check out the 3ROC and IOA Facebook pages.
Reminder: It's time to enter the Leinster Championships (Co. Louth on 5th April) and Irish Championships (Killarney, May 1-4).
See you in the forest!