Orienteering News 31st October 2019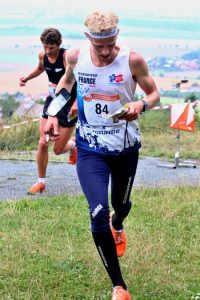 Dublin Sprint Weekend – an exciting weekend's sprint orienteering this weekend, on four different areas in the capitol. UCDO are putting on an intense weekend's orienteering, both for the organisers and runners, starting on Saturday morning. Entries have closed so if you're not already in, it's too late. The qualification races lead on to knock-out sprints, with further races in what sounds like a results team's nightmare! Good luck to runners and organisers alike.
Well done to Valdas Tilunas, 2nd on M21L at last weekend's Connacht Championships. A small entry, some long times and plenty of DNF's point towards it being a tough event. No further reports unfortunately and no Routegadget.
Orienteering marathoners – An article in last weekend's Irish Times celebrates the 40th Dublin Marathon and specifically, former 3ROC member Carey May. See the link to it on the club Facebook page here. Delving into the Dublin Marathon archives we found a number of 3ROC members who have run the Dublin Marathon, among them Justin May, Lindie Naughton, Valdas Tilunas, Ted McGrath, Ronan Cleary, Frank Martindale, John McCullough, Julie Cleary and Bernard Phelan: we're probably missing some more. The best time we found from an orienteer in the period 1979-1999 was Gerry McGrath's 2.18.19 in 1993, but in fairness, Gerry is more of a runner than a navigator (Sorry, Gerry!).
Next weekend – Back to normal orienteering on November 10th with the Ajax Leinster League event at the Vale of Clara, Co. Wicklow, last used for the 2018 Leinster Championships. It's a very unusual area, completely forested, with a mixture of vegetation that brings to mind Scotland or even Scandinavia: open, runnable forest with heather and fraughans underfoot. Definitely worth a visit! There should be details on the IOA Forum here in the lead-up to the event.
The day before, 9th November, there's sprint orienteering training at Killiney Hill, kicking off at 9 am and finishing at 1 pm.
Training for M/W 14 and older: Training will take place at Killiney Hill, Dublin. Meeting time – 9:am
Sprint training – commences 9:30am this will be approximately 1.4km, with 1min start intervals
Break / Discussion – evaluation of the run; Route Choice Training – 2.4km in pairs (not racing – for learning and understanding); Break / Evaluation of your routes; Extra course – for those looking for more there will be a course of all controls 3.3km
Finish time – approximately 13:00; There will be tea / coffee / hot chocolate / water…and maybe a few treats afterwards
This training is focused for M/W 14+ age groups only.  There will be no SI used, just flags / controls.  All juniors are encouraged to wear a watch to keep track of the time.  We may be able to keep a scoreboard for the sprint
Training for juniors under 14
Training will take place at Barnaslingan with David Healy
Time – 11 – 1pm. Compass and pacing drills to be covered
We will make sure that there are a few treats afterwards for the younger juniors as well!!
If you want to come along, make sure you contact the IOA Juniors Officer, Colleen Robinson, first to register: juniorrep@orienteering.ie.
This time, see you on the streets!