Orienteering News 4th May 2017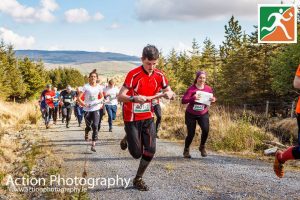 An excellent Irish Championships at Oughterard in Co. Galway last weekend saw some great performances on challenging courses in tough terrain, with 3ROC taking several prizes. In Saturday evening's Middle Distance race, Cuan Riordan finished 2nd M14, Aidan McCullough 2nd M16, Eoin Riordan 3rd M18, Valdas Tilunas 1st M40, John McCullough 2nd M60 (1st Irish runner), Frank Martindale 1st M80, Clodagh Moran 2nd W18, and Nora Lee 3rd W55. Running conditions were perfect, dry and breezy, and the open mountain terrain was fairly straightforward. Darren Burke, Conor Short and Marcus Pinker were the top M21 Elites and Ciara Largey, Niamh O'Boyle and Toni O'Donovan were the top three in W21 Elite.
Sunday's Long Distance race was a different story – very complex rock detail which tended to obscure the contours underneath, but the promised rain and storms didn't happen so, again, running conditions were excellent. More open mountain allowed spectators to see the final stages of the courses, which was interesting! A few 3ROC prizewinners again – Aidan McCullough 3rd M16A, Valdas Tilunas 2nd M40L, John McCullough 1st M60L, Frank Martindale 1st M80, Clodagh Moran 3rd W18A, and Mary O'Connell 2nd W55L. Well done everyone! Marcus Pinker, Conor Short and Ruarrí Short too the top places in M21E, and Niamh O'Boyle, Ciara Largey and Toni O'Donovan were the leaders in W21E.
The three competition areas were close together, so it was back again on Monday for the Relays. Unfortunately the number of 3ROC runners staying on meant that we only had one team running: Aidan, Clodagh and Harold White in the Handicap 6 class. Harold, as IOA Technical Officer, had seen the maps and courses beforehand so the team was non-competitive. Another great day, though, with perfect running conditions, more views of the scattering runners on the open hillside, and pretty dry and fast underfoot. Courses planned by Ajax's Marcus Geoghegan brought the runners over the hill, then back through a strip of forest into an area of old fields and around to the finish. A close finish in both the Premier classes saw Cork O finishing just ahead of CNOC in the Men's race, with the order reversed in the Women's: CNOC first and Cork O second. Finally, no Irish Champs is complete without the call of the cuckoo, and this year was no exception: early on Monday morning, the first of May, as the Controller was getting ready to do a final run around the controls, the elusive bird was in full song. Summer had arrived!
Well done to Western Eagles on a great weekend's orienteering. All the IOC Results and maps are on the IOA website here. There are also lots of great photos taken by John Shiel's Action Photography here and by WEGO's Roger Duff here.
Leinster League continues The Irish Champs is usually the end of the competitive orienteering season, but this year there's another Leinster League event on Sunday 14th May at Ballyward near Manor Kilbride in Co. Wicklow. More details here.
Sprint and Urban orienteering Another interesting series this year is the Northern Ireland Sprint Series, with five events running from 13th May to 11th June and leading up to the NI Sprint Championships at Newcastle, Co. Down on June 23rd. Details at NI Orienteering. Before that, however, the CNOC Tuesday evening series starts at the Curragh on May 16th. Again, details on the IOA Forum. This year the series includes urban events in Naas and Newbridge, and later in the summer there will be urban events in Dunshaughlin, Bayside and Skerries, so it's a chance for you to try this relatively new O-discipline.
Over the summer, the 3ROC updates will move more to the club Facebook page here, so don't forget to check it regularly.
Summer events for you – 3 Day in Belgium in early June, World Champs in Estonia in late June, Swedish 5-day O-Ringen in July, Scottish 6-Day in August … the list goes on. See World of O for ideas.
Finally, if you have had difficulty finding the downloadable maps for the Ticknock Permanent O-Courses, the have moved, but the links on the right of this page have been updated. There are still some missing posts, however, so read the information on the "Events" page. And a word of advice: for beginners, don't start with the Advanced course – go for one of the easier ones first.
See you in the forest – and remember, you can join 3ROC easily online here.