Pine Forest, 29th March 2015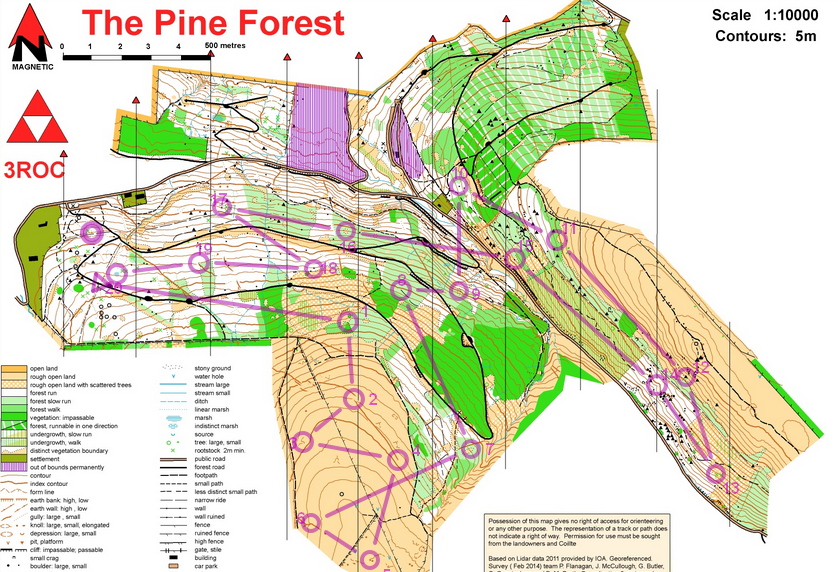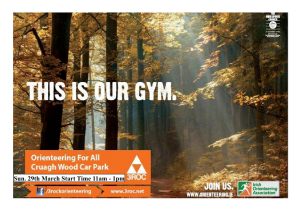 Our final Leinster League event before the summer:  Pine Forest, Rockbrook, Co. Dublin.  Start times 11 am to 1 pm. Entry on the day – all welcome.
We will be operating from the Cruagh Road car park, not the Tibradden car park where ZipIt is. See the Open Streetmap location map here.
Course details are:
Brown: 8.5km, 490m, 27 controls.
Blue: 6.6km, 325m, 20 controls.
Green: 4.6km, 230m, 17 controls.
Light Green: 3.8km, 115m, 12 controls.
Orange: 2.5km, 75m, 7 controls.
Yellow: 1.6km, 40m, 6 controls.
Red: 3.7km, 175m, 6 controls.
None of the courses are buggy-friendly. SportIdent timing will be used – SI card rental will be €2 per person. Maps will be A4 size, on waterproof paper. Control descriptions will be separate and will not be waterproof – they are not printed on the map.
Map scale 1:10,000 scale, 5 metre contours. Courses will close at 3 pm.
Grid Ref = O 126 226
10 digit Grid Ref = O 12638 22631
Latitude = 53.24211 (north)
Longitude = -6.31259 (west)
Latitude = 53°14'32" (north)
Longitude = 6°18'45" (west)
Tetrad = O12G
Entry details: We will use the same entry system as used by CNOC and Ajax recently. This is the 'auto entry from archive' feature in Ór. This means that if your SI card details are in the IOA archive you are entered in the computer only after you download.
You need to ensure that your SI card is registered correctly on the archive. Please check the archive here.
The course that you select in the archive does not matter as your course will be matched automatically.
What you need to ensure is that the SI card that you are going to use has your name associated with it. 
When you register you will be asked to sign in and give your car number or mobile phone number for safety purposes only.
If your SI card is not in the archive or if you are renting an SI card you will need to fill in a standard entry form.
Entry fees: Adult €8, Junior/Student/Unwaged/over 65: €5. Family €20.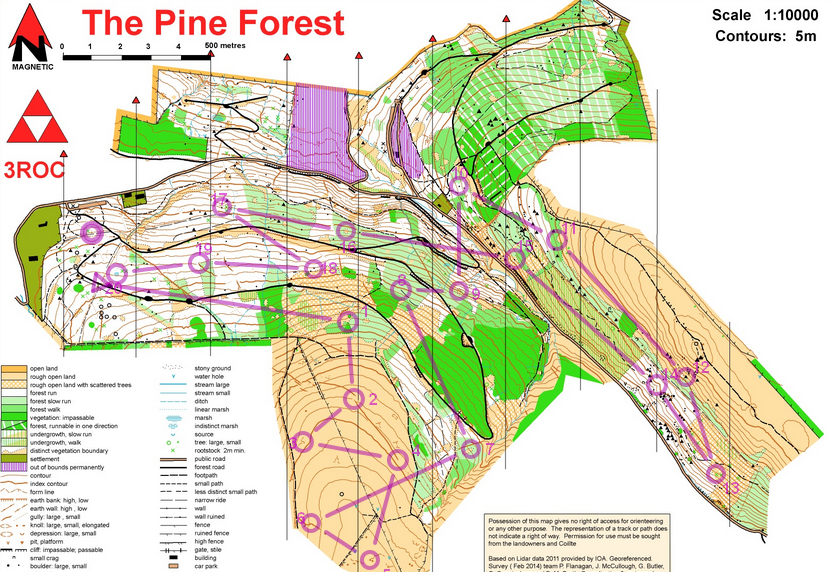 Safety notice:  Orienteering is not just a walk in the park.  The weather forecast for Sunday is for rain (check here) and you should dress accordingly. Just because you can see your house from the area doesn't mean it is going to be nice and sunny – the Pine Forest is an exposed upland area and you should remember that. Weatherproof clothing may be recommended or required on the day. Whistles should also be carried as per IOA Rules – this is as much for the safety of the organisers who may have to make up search parties as it is for your own safety.
After all these dire warnings, we hope you'll come along and enjoy your run on the day.  Planner Colm Moran has set some interesting courses for you!
PS Remember the clocks go forward an hour on Saturday night!