Spring Orienteering News
Griffeen "Come & Try It" for Ukraine
Our next event is the "Come and Try It" at Griffeen Park, Lucan on Sunday 13th March. There are three courses of approximately 2, 4 and 6 km starting between 11 am and 1 pm. Parking is at the Hayden's Lane car park where we also started the Christmas Score event in December.
The entry fees will all be passed on to the Irish Red Cross Ukraine appeal. You can enter online here, or you can enter on the day of the event. Full details of the event are on the pre-entry link.
See the location map here.
If you haven't tried orienteering before, here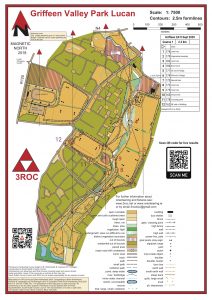 is a sample map and course from a previous event at Griffeen. There are also some permanent orienteering courses and virtual orienteering courses in the park – you'll find details  here and here.
Online entry fees are €2 for children, €3 for students/over-65's/unwaged and €4 for adults. Entry on the day is €4, €6 and €8. There is also a link on the online form to give an additional donation to the Red Cross appeal.
Please come and support the event or, if you can't come, you can still give a donation to this appeal.
Later events Other events coming up are the Leinster League events at Brockagh on 20th March; on the sand dunes at Cahore, Co. Wexford, on 27th March; at Glendasan, Co. Wicklow on April 3rd and at Forth Mountain, Co. Wexford on 10th April.
These are followed by the Jan Kjellstrom O-Festival over the Easter weekend in south Wales: details here. Entries close on 13th April.
A week later the next 3ROC League event at Carrick Mountain, Glenealy with the Irish Championships in Killarney a week later. For IOC details see here. If you are going to IOC and would like a run in the Relay on the Monday, please let us know so we can sort out relay teams. The club pays for relay entries.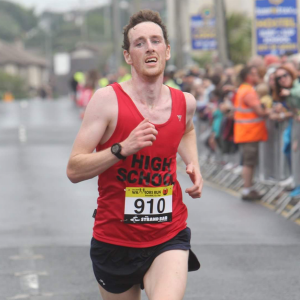 Congratulations to Colm Moran on a great first marathon run in Spain with a time of 2.39.50 in the Maraton de Castellón at the end of last month. This is right up there with other times run by Irish orienteers over the years – here's a clip from "The Irish Orienteer" a couple of years ago "Well done also to the orienteers running in the Dublin Marathon the same day: to 3ROC's Valdas Tilunas who finished in 3.21.06 and to Paddy  Higgins (LVO) for a spectacular 2.39.41, coming close to Wally Young's 2.38.36 in 1980. Has any orienteer beaten Donal Burke's Dublin time of 2.34.40 in 1981? Has any 3ROC member beaten Justin May's 2.51.27 in 1983?"
Actually, looking through some old Dublin marathon results, we can see see that FermO's Robbie Bryson ran 2.33.05 in 1990, improved from 2.39.11 in 1982, so this might be the fastest male orienteer's time. Ex 3ROC Carey May, of course, won the Osaka Marathon in Japan in 1985 in 2.28.07!
AGM Notice – we're planning on having the 3ROC Annual General Meeting on 21st April, in the week before our event at Carrick Mountain. Further details later. This will be an in-person meeting for the first time since 2019.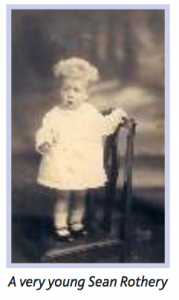 Congratulations to one of our founder members, and one of the founders of orienteering in Ireland, Seán Rothery who recently celebrated his 94th birthday. The following piece appeared in the March edition of his local community magazine, Three Rock Panorama, under the title "Super Seán": The man is Seán Rothery from Woodside who celebrated his 94th birthday with a special group of friends in the Blue Light recently. Seán is fit and well and looking forward to the future. Sean, a family man, Architect, Teacher, Historian, Author and Mountaineer has written a number of books including; Everyday Buildings of Ireland, Ireland and the New Architecture, Shops of Ireland, A Long Walk South and Snow on the Equator.
His last book published in 2018, 'Here Come the Mountainy Men' – A memoir, tells the story of Sean's life growing up in Sandyford, the Rothery family, life on the mountains, his schooling and University studies, early work as an Architect, travels and expeditions abroad and meeting the love of his life, Nuala Carey in Ely Place, Dublin.
Speaking at a book launch in the eighties Sean said " When you retire, you're given a lamp or a gold watch and told what a wonderful thing it is to put your feet up, play golf and everything will be alright. You're being told you're too old and to get lost". This never applied to you, Sean. Sean will launch his latest book in the coming months with an event in Dublin for charity. Before that he is planning his next holiday in Nerja, Spain where some old friends reside.
Sean had another milestone event recently; he had his last drive in his car after 78 years (yes,78 years) of driving in Ireland and abroad. He has already adjusted to travelling on the 44B bus to Dundrum, the Luas, a local friendly taxi service and the odd lift. Sean is amazing and has so many lovely stories to tell. The Blue Light Solo Group with Sean and other interesting people was set up some years ago by Mary McCabe, Woodside Road . The people involved live in the area and were so busy with their own family circle that they never really knew each other well. Key factors for this group are that there is no agenda, no minutes, no chairperson, just a good chat at a real fireside, sharing local information, stories in Three Rock Panorama, security options, things to do, places to go, with refreshments and sometimes a nice birthday cake for special people.
See you in the forest!