Summer 2021 at last!
Welcome back, everyone! After almost a year with no orienteering we are getting back to normal for the summer. There are events in June (though none in Leinster) and more are coming. Apart from that there are still lots of permanent courses and virtual orienteering courses available and we no longer have to restrict our travel to 2 km, 5 km or within our county, so it's all looking good.
There will still be precautions like pre-entry only, social distancing and a limit of 100 competitors for the moment, but by September – when the main O-season usually starts – we're expecting to have League events and even the twice-postponed Leinster Championships in October. We're also expecting to run three evening events in the Phoenix Park in August and a local event at Griffeen Park later on.
Keep an eye on the growing fixtures list at orienteering.ie.
3ROC AGM: The 2021 Annual General Meeting will be on Zoom at 8 pm on Wednesday 7th July. Club members will be sent a Zoom link closer to the date.
World Championships Congratulations to Colm Moran on being selected to run the Long race at the World Championships at Doksy in the Czech Republic from 3rd to 9th July. The full team has just been announced: Sprint: Kevin O'Boyle, Josh O'Sullivan-Hourihan, Paul Pružina; Middle: Josh O'Sullivan-Hourihan, Paul Pružina, Conor Short, Reserve: Kevin O'Boyle; Long: Colm Moran, Reserve: Paul Pružina; Relay: Colm Moran, Paul Pružina, Conor Short, Reserve: Josh O'Sullivan-Hourihan. No women went for selection this year.
The Long race, with an estimated winning time of 99 minutes, will be 13.6 km with more than 1100 metres climb in challenging forests with big limestone pillars, boulders and crags. 3ROC ran a selection event for the Long WOC race at Carrick Mountain in Co. Wicklow on 30th May and you'll get a chance to run parts of the course at the League event we expect to run there later in the year.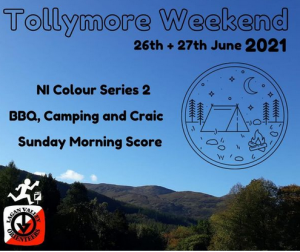 Tollymore weekend: Lagan Valley Orienteers are running their Tollymore orienteering weekend on 26th/27th June, with an NI Series League event on the new map of Tollymore Forest on Saturday and a score event on Sunday morning. There's camping on site and a barbecue and lots of socialising (with precautions!) – a great weekend. More details of online entry etc later.
More congratulations, this time to Clodagh Moran on the winning photo in the recent IOA photographic competition. The photo, taken by Pavel Klabouch at the 2017 European Youth Orienteering Championships in Slovakia. See the photo at the top of the page.
It's a while since we've been able to say this, but – once again – see you in the forest!