This week's news: May 11th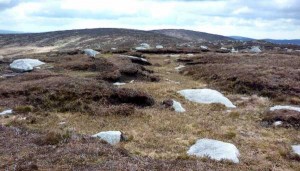 GEN ran the final event in the Leinster Spring Cup on Sunday 11th at Brockagh, where the strong wind and slanting rain blew across the mountain top, mixed with sunny spells , but at least the visibility was better than in last weekend's Irish Championships just up the road beside the Wicklow Gap.  A disappointing turnout, but poor weather and the series continuing past the Irish Championships may have had an effect, not to mention people wanting to go to see the Giro d'Italia (although this was doable!) See the results and routes here:  good results from Aidan McCullough (1st on Light Green), his brother Eoin (2nd on Brown), and Kevin Cunningham (3rd on Green) and Áine Uí Shúilleabháin (3rd on Light Green).
This week sees the start of the annual CNOC evening series, starting at Donadea on Tuesday. The event will be a "scatter" event planned by Eileen Loughman, where you visit as many controls as you need for your course (10, 15 or 22) in the order of your choice. See details here.  See the Donadea map (near Clane, Co. Kildare)  here.  Start times are from 6 pm to 7.30 pm but it tends to get dark in the forest earlier than you'd expect so don't leave it too late.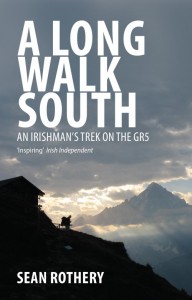 Veteran orienteer and 3ROC founder member Seán Rothery has had his  book "A Long Walk South" reprinted by Collins Press. At the age of 65, when Seán retired, he walked from the North Sea to the Mediterranean, from Holland to the south of France, following the long-distance walking route "GR5". His book details the 2300 km trek and Seán illustrates it with his fine drawings.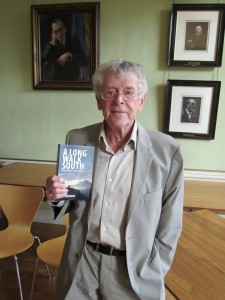 It's available from the Collins Press at a discounted price of €10.39.  See here.
Residents of the Sandyford area can read a review of Seán's book in the May issue of the local community magazine  "Three Rock Panorama" and also catch up on 3ROC orienteering news, including a photo of the Leinster Championship prizewinners from the club.
Irish 3-Day: The cheapest entry fees deadline for the Irish Three Day has just passed, but don't let this deter you from entering. The event, on the areas used for last year's Irish Championships around Oughterard in Co. Galway, is on the June Bank Holiday weekend (May 31-June 2). They are great areas and Pat Healy's maps are excellent. You'll also have a chance to visit the mines at Glengowla (see here) where the event parking is located. Come and support the handful of orienteers in Connacht who are putting the event on for us. See details here.
If you can't make that then here's another event for your diary: LVO are running their usual Tollymore O-Festival in Co. Down on June 20 (Urban sprint in Newcastle), 21st (Tollymore) and 22nd (Sprint relay at Donard Park, Newcastle). More details will be here.
Club fitness training continues on Monday and Thursday at Belfield at 6.30 pm.
More news on the Wicklow Way Relay (24th May) soon.
Check out the IMRA web site for Wednesday evening hill races here. This week's race is at Djouce at 7.30 pm.
Finally, congratulations to M20 Eoin McCullough,  one of three athletes to represent Ireland at the Junior World Championships in Bulgaria in July. The other two team members are Jack Millar and Mark Stephens, both from LVO. The team manager is Ivan Millar (LVO).