This week's orienteering: March 18-23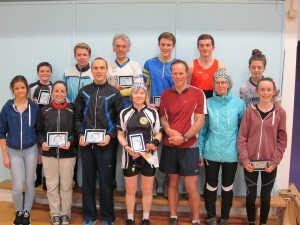 Up the walls in Derry … Well done to 3ROC prizewinners Clodagh Moran and Eoin and Aidan McCullough at last weekend's festival of orienteering in Derry: a middle distance race on Saturday at Binevenagh forest followed by three sprints on Sunday: one on and around the ancient walls of Derry, one across the river in St Columb's Park and the final of the Junior Fundraising Campus Sprint series at the University of Ulster campus at Coleraine. Eoin also finished overall winner in the 5-event Campus Sprint series, so well done again!
Quite a busy time this week at home, with the launch of the new map of Deaf Village Ireland in Cabra on Saturday and a Leinster Spring Cup event at Bull Island on Sunday. The Junior Squad will also have their March time trial in the Phoenix Park on Saturday with training in the area later in the day.
Emma McAuley planned the course at DVI on Pat Flanagan's map and the event for DVI pupils will be in the morning, with the Juniors expected to train there for a time later in the day. If you can help by explaining what orienteering is to beginners, come along to DVI on Saturday morning: opposite Park Motors on the Navan Road (but the entrance for cars is on the Ratoath Road on the other side of the area).
Ajax are running a Spring Cup event on the fantastic Bull Island on Sunday: what other capital city has such a great sand dune/nature reserve area only minites from the city? See detalis here.
Not sure what state some of our Elites will be in for the Bull Island, after the Intervarsity Mountain Running Championships at Camaderry, Glendalough, on Saturday: Colm Moran (UCD) and Eoin McCullough (TCD) would normally be expected to taking part, but Colm is away training with the French Elite O-Squad so unfortunately will miss the race.
Don't forget to enter the Leinster Championships (April 6th): the closing date for entries is Wednesday, March 26th.  See here for details.  CNOC are staging the event in a really nice forest near Portlaoise.
Finally, can you help at our event at the Pine Forest the following Sunday (March 30th)? We need volunteers for the usual jobs but also to help with parking.  E-mail 3rockoc@gmail.com if you can help. Thanks!