This week's orienteering – October 12-19
Not much happening in Leinster this week, but you can take some time to plan ahead since there's some good orienteering on the way.  If you want to travel, there are events in Cork,  Kerry and Sligo on Sunday (see www.orienteering.ie). The second Leinster Secondary Schools league event is on Thursday at Corkagh Park, Clondalkin.
Several good runs from 3ROC at Sunday's Leinster League event run by Setanta at Glenreemore, scene of last May's Irish Relays. Coillte are carrying out their promise to fell the forest so there may be no trees left on our next visit.  John McGrath was 3rd on the Blue course, Ger Butler and Eoin McCullough 2nd and 3rd on Brown, Colm Moran 2nd on Green, on a beautiful autumn day for a run in the hills.
The Irish Senior team, featuring 3ROC's Ger Butler (M21), Eoin McCullough (M20) and Cliona McCullough (W20) head for Scotland to take on England, Scotland and Wales in the Senior Home International this weekend, with the Individual race on a new map of Balmoral on Saturday and the Relay at Forvie, an open sand dune area near Aberdeen, on Sunday. The events are part of the "Race the Castles" series, with a lot of top orienteers running in preparation for next August's World Championships in Scotland. Good luck to the team! You can follow the events here.
Upcoming competitions in Ireland include the Munster Championships at Muckross, Killarney, on November 2nd (details here) and the Connacht Championships on a new map of Strandhill, Co. Sligo, on November 16th (details here).
Before that there are three races staged by Waterford over the Bank Holiday weekend: a night event on Tramore sandhills on Saturday, a Leinster and SouthEast League event at Castlecomer, Co. Kilkenny, on Sunday, and an urban race on a new Laurence Quinn map in Waterford City on Monday.  See details here.
Also in November is the IOA "Computers in Orienteering" workshop: places are filling fast and you can register here. (Read about "Computers in Orienteering" in 1987 here, in an article from the Defence Forces magazine, An Cosantóir".
The next 3ROC event is our post-Parkrun come-and-try-it at Griffeen Park on Saturday November 29th.
Have you voted on which design you'd like for our new orienteering tops? E-mail Lindie and she'll send you out the designs to vote on: lindie.naughton@gmail.com.
Training continues on Monday and Thursday evenings at Belfield, 6.30 pm, and circuits in Stillorgan on Wednesday evening.
Brian Hollinshead is giving a lecture on "Open Street Map" on Wednesday 22nd October at the RDS at 6 pm. Brian is a long-standing member of 3ROC who has embraced the Open Street Map project with enthusiasm. The lecture is free but you need to reserve a ticket. See the 3ROC Facebook page for details.
If you're not orienteering this weekend, how about visiting some of Dublin's interesting buildings instead? "Open House Dublin" is on, and you can visit places like Liberty Hall, the Kings Inns, Airfield in Dundrum, Broadstone Station or the Casino at Marino.  See details here.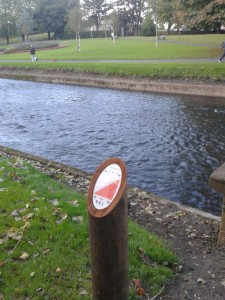 Dublin's latest Permanent O-Course is taking shape in Griffith Park in Drumcondra, on the banks of the mighty River Tolka, established by Dublin City Council and St Patrick's teacher training college. Here's a photo of one of the posts last week .
Catch up with some international orienteering with this film of the 2014 World University O-Championships featuring 3ROC/Dublin University's Eoin McCullough in a sprint finish with France's Frederic Tranchand, and see a short interview with CNOC and USA's Alison Campbell here.
… and don't forget to like us on facebook and follow us on Twitter!